Skip to Content
Jeuveau
Jeuveau is the newest neurotoxin on the market and works similarly to BOTOX Cosmetic and others by temporarily relaxing muscles to reduce the appearance of moderate to severe wrinkles on the face for 3-4 months. Jeuveau is FDA approved for the treatment of frown lines.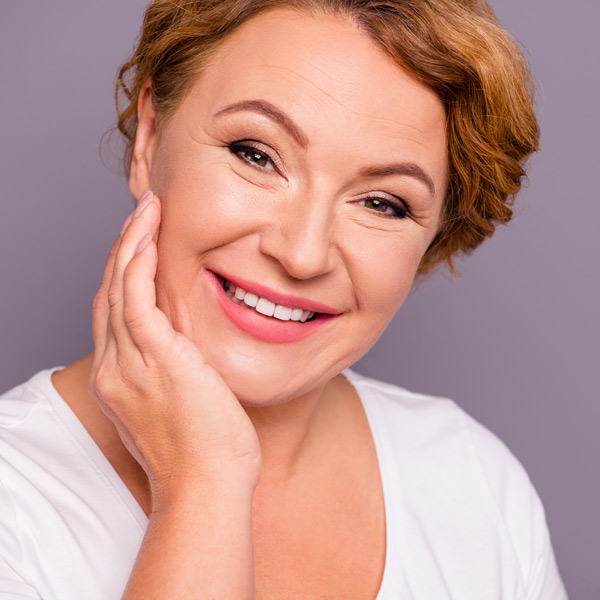 Safe and Effective Jeuveau Injections in Salt Lake City
Have you noticed lines on your face? Are you down about the fact that your skin doesn't look like it used to? Although aging is a natural part of life, many of us want to prolong our younger years by removing the lines that have come about in our later years. Jeuveau is an effective treatment for removing facial lines and wrinkles that have been caused by a variety of factors, including the aging process, stress, anxiety, and other environmental concerns. Although it can be frustrating to deal with wrinkles and laughter lines, you can now reverse the signs of aging and look younger again with Jeuveau. Our Salt Lake City clinic offers Jeuveau procedures that are effective in treating your lines in a safe way with minimal side effects.
How Does Jeuveau Work?
Contrary to what it may look like, facial lines actually go very deep. Because they are often caused by muscle contractions from frowning, squinting, and laughing, they are rooted in the underlying facial muscles. These muscles need to be targeted in order to remove wrinkles.
Frown lines – Multiple injections are usually placed on the forehead: in the procerus muscle and in the corrugator muscles. The result is a more relaxed look.
Crow's feet – Injections are placed into the orbicularis oculi muscles on both sides of the face. Jeuveau will reduce the muscle activity, giving you a smoother look.
Forehead lines — Multiple injections are placed across frontalis muscle of the forehead, resulting in a more youthful, more relaxed appearance.
Jeuveau is injected just under the skin with a fine needle and works by relaxing the underlying facial muscles. At Swinyer Woseth Dermatology, our Jeuveau treatments are given by licensed clinicians who are highly trained and experienced. The procedure itself is short, taking only about 10 minutes, and is well tolerated with no downtime.
What Can I Expect?
Ice may be used to numb the area before you are injected so there is little pain and discomfort. After your Jeuveau treatment, it can take up to one week for the effects to show. The results are dramatic; however, they last for up to four months. So if you are keen on removing your lines for a longer period of time, you'll have to have your injections done a few times per year. Although the results are effective, they are not so dramatic that you will not recognize yourself. After your treatment, you can go about your routine as normal.
Reverse the signs of aging and look younger again with fast and effective Jeuveau procedures from our Salt Lake City dermatologist. This treatment is extremely safe, with few side effects for most patients.
Contact our expert dermatologists to say goodbye to your lines by calling 801-266-8841.
I have a fair complexion and susceptible to skin issues. Enjoy going to their office the doctors and assistants have been very kind. Would recommend this office.
I had a great experience removing my skin cancer on the front of my shoulder a week ago. They were kind, detailed, and took the time to explain the whole process. I am glad I have chosen them to assist with my dermatology needs.
Very professional and skilled! Finally able to resolve some issues I've had in the past that other dermatologists ignored.
Dr. Woseth has long played a critical role in my health, for which I will be forever in his debt. He is one of the nicest and most competent doctors I have ever met.
Very professional. They examined me and explained everything. I will go there for years.
I love this clinic. Every time I go I have a wonderful experience!
Service has always been prompt and professional. The level of care and followup is exceptional.
It was very professional and safe. All the protocols were followed and as usual, the care is exceptional.
Dr. Woseth is thorough, compassionate & patient! Every question answered & great follow up!
My recent appointment went great. All the staff are welcoming. I did not have to wait long. Alisa is always kind and gentle, makes me feel comfortable. I refer all my friends.
Everyone at the office is very caring. I've been a patient here for about 3-4 years and they've taken care of me so well. The treatment they provide has been life changing!
First time doing a skin check and having something removed. They were very nice and fast. It was completely painless and relaxing. Pretty sure I found my new dermatologist.
Schedule Your Appointment Today!