Skip to Content
Adult Rosacea Treatment in Salt Lake City and South Jordan
Rosacea can cause embarrassment and become a social hindrance for the roughly 14 million Americans who have it. But that does not have to be the case. Swinyer – Woseth Dermatology is your rosacea treatment expert in Salt Lake City and South Jordan, UT. Call or visit our office to discuss your rosacea diagnosis, triggers, and ways we can help control your condition to prevent flare-ups and keep your skin clear. Our team of board-certified dermatologists will help manage your outbreaks and boost your confidence so that you can enjoy a vibrant social life without the redness, burning, and painful bumps associated with rosacea.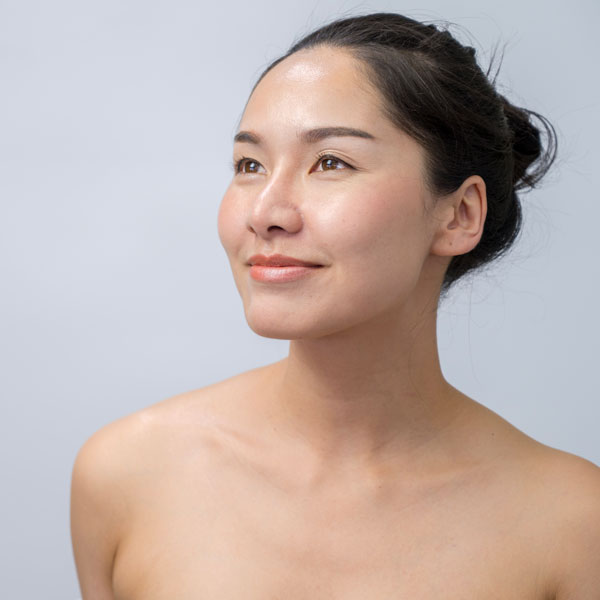 Examining Potential Rosacea Causes and Risk Factors
The exact cause of rosacea is unknown, so it is important to understand some potential connections and risk factors for the condition. Many patients who visit our Salt Lake City or South Jordan office suffering from rosacea are between 30 and 50 years of age and of Celtic or Scandinavian descent, have fair skin, have a family history of the disease, and had acne in the past. Women are more likely to have rosacea than men, but the severity of rosacea in men is often much worse than in their female counterparts. A combination of hereditary and environmental aspects likely causes the condition, but it is unrelated to poor hygiene.
Rosacea Symptoms Vary With Four Known Subtypes
Rosacea is characterized by a litany of signs and symptoms that vary depending on the person. Therefore, the disorder has been divided into four subtypes. Some individuals may have more than one subtype of rosacea, but the traits of each are as follows:
Erythematotelangiectatic rosacea (ETR) – Individuals with this subtype of rosacea typically have very sensitive skin, accompanied by flushing and redness in the center of the face, visibly broken blood vessels, swollen skin, dry skin, and a tendency to blush more than others.
Papulopustular rosacea – Also known as acne rosacea, this subtype includes acne-like breakouts, oily skin, skin that may be sensitive, and swelling.
Phymatous rosacea – This subtype is rare and is often preceded by other subtypes of rosacea. It features bumpy skin, thickened skin, large pores, and visibly broken blood vessels. Phymatous rosacea can produce concentrated thickening of the skin on the nose, causing it to appear bulbous. This effect is more common in men than in women.
Ocular rosacea – Affecting the eye, ocular rosacea causes blurry vision, cysts on the eyelid, light sensitivity, and bloodshot or watery eyes that may feel gritty, itchy, and dry.
Most Common Rosacea Triggers Among Sufferers
Increased blood flow to the skin's surface can worsen the effects of rosacea. Among the most common rosacea triggers are:
Hot foods and drinks
Spicy foods or dairy products
Extreme temperatures
Sunlight, humidity, or wind
Stress
Anxiety
Anger
Strenuous exercise
Hot baths or saunas
Some medications
Alcohol
Cosmetics
Rosacea Treatment Options at Swinyer – Woseth Dermatology
There is no known cure for rosacea, but there are ways to treat the condition and manage its signs and symptoms. Typically, a treatment plan uses a combination of skin care products and prescription medication. The friendly dermatology staff at Swinyer – Woseth Dermatology will propose a course of action that minimizes your symptoms and helps keep your face clear. We will help you understand your rosacea triggers and how to avoid them. Furthermore, we will suggest over the counter (OTC) options that can help protect you from the sun, clean your skin, and prevent flare-ups. Our team can also recommend prescription medications including topical products and oral antibiotics that will combat your rosacea symptoms. Topical products such as Brimonidine, Azelaic acid, Ivermectin and Metronidazole can all temporarily reduce redness and acne. Oral antibiotics can be used to lessen inflammation associated with rosacea. Additionally, our offices in Salt Lake City and South Jordan, UT can provide laser treatment for rosacea.
Laser Treatment for Rosacea in Salt Lake City and South Jordan
While managing your triggers can prevent new flare-ups, laser treatment for rosacea has been a successful measure for patients with existing visible blood vessels and facial redness. Our dermatologists use lasers to shrink the blood vessels that appear as a result of rosacea to help with the appearance of your skin. This treatment will likely cause some mild discomfort, but it is typically tolerable even without an anesthetic. Visit Swinyer – Woseth Dermatology in Salt Lake City and South Jordan to learn if this therapy is appropriate for you.
Schedule a Consultation at Swinyer – Woseth Dermatology Today
If you are an adult suffering from rosacea, do not try to treat it alone. Visit Swinyer – Woseth Dermatology in Salt Lake City and South Jordan to get rosacea treatment that will have the dual benefits of healthier skin and an improved appearance. Your pain, swelling, and redness will decrease, and your confidence will simultaneously improve. Our friendly staff is eager to hear from you and help you on your path to clearer skin, so call Swinyer – Woseth Dermatology to schedule your appointment today.
I have a fair complexion and susceptible to skin issues. Enjoy going to their office the doctors and assistants have been very kind. Would recommend this office.
I had a great experience removing my skin cancer on the front of my shoulder a week ago. They were kind, detailed, and took the time to explain the whole process. I am glad I have chosen them to assist with my dermatology needs.
Very professional and skilled! Finally able to resolve some issues I've had in the past that other dermatologists ignored.
Dr. Woseth has long played a critical role in my health, for which I will be forever in his debt. He is one of the nicest and most competent doctors I have ever met.
Very professional. They examined me and explained everything. I will go there for years.
I love this clinic. Every time I go I have a wonderful experience!
Service has always been prompt and professional. The level of care and followup is exceptional.
It was very professional and safe. All the protocols were followed and as usual, the care is exceptional.
Dr. Woseth is thorough, compassionate & patient! Every question answered & great follow up!
My recent appointment went great. All the staff are welcoming. I did not have to wait long. Alisa is always kind and gentle, makes me feel comfortable. I refer all my friends.
Everyone at the office is very caring. I've been a patient here for about 3-4 years and they've taken care of me so well. The treatment they provide has been life changing!
First time doing a skin check and having something removed. They were very nice and fast. It was completely painless and relaxing. Pretty sure I found my new dermatologist.
Schedule Your Appointment Today!