Skip to Content
Rashes Treatment in Salt Lake City & South Jordan
We Specialize in Rash Treatment
If you are experiencing a rash, whether it's itchy, painful, or unsightly, the experienced dermatologists at Swinyer-Woseth Dermatology can help. Rashes can be caused by a variety of factors, including allergies, infections, and autoimmune disorders, and can range from mild irritation to a serious condition requiring medical attention. Our team of experts in Salt Lake City and South Jordan offers a range of effective treatments for different types of rashes. We are committed to providing personalized care to each patient to address their unique needs. Contact us today to schedule an appointment and get the relief you need from your rash.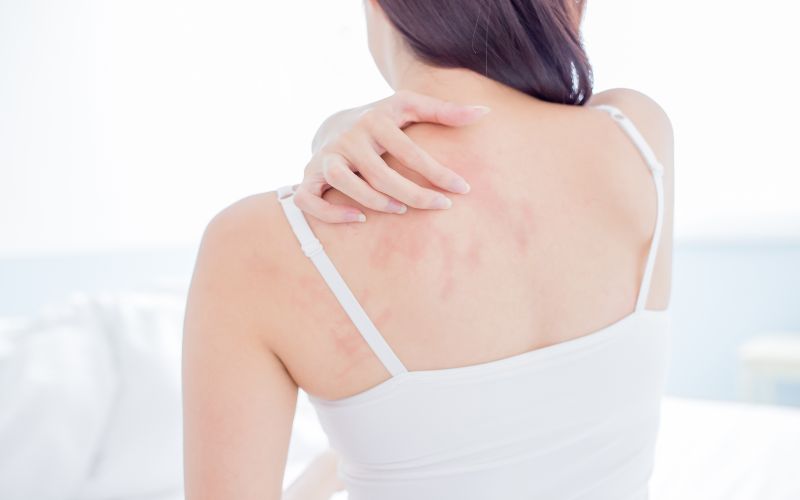 Types of Rashes We Treat
While some rashes can be treated with over-the-counter medications, others may require the expertise of a dermatologist. This is especially true if the rash is severe, persistent, or spreading rapidly. It's important to keep in mind that many rashes can be serious and may not go away on their own or with the use of these medications. If you are experiencing a rash that lasts for days and is not improving, it's highly recommended to schedule an appointment with us. Our expert dermatologists at Swinyer-Woseth Dermatology will provide an accurate diagnosis and develop a personalized treatment plan to help bring your skin back to its healthy, vibrant state.
Common Causes
A rash is any type of inflammation or discoloration that alters the appearance of your skin. Rashes fall under the broader category of skin conditions, which also include eczema, hives, and athlete's foot, among others. Common causes of rashes include allergic reactions to medications or certain foods, contact with irritants such as detergents or cosmetics, exposure to extreme heat or cold, and insect bites or stings. Some medical conditions like eczema, psoriasis, and lupus can cause rashes. In some cases, a rash may be a symptom of a more serious underlying condition, so it's important to seek medical attention if a rash persists or is accompanied by other symptoms.
Symptoms of Rashes
Symptoms of rashes vary depending on the cause and type of rash. Common symptoms include redness, itching, inflammation, bumps, blisters, scaling, and peeling. In some cases, rashes may also cause pain or a burning sensation. The affected area of the skin may be warm to the touch, and there may be visible signs of irritation, such as bumps or blisters. Rashes can occur anywhere on the body and may spread to other areas if left untreated. It is important to seek medical attention if the rash is accompanied by other symptoms, such as fever, difficulty breathing, or swelling of the face, lips, or tongue.
Schedule Your Rash Exam Today
At Swinyer-Woseth Dermatology, we understand how frustrating and uncomfortable rashes can be. Our experienced dermatologists in Salt Lake City and South Jordan are here to provide you with personalized care and effective treatment options for your specific rash. From rashes on neck treatment to forehead rashes treatment, we've got you covered. Don't let your rash go untreated or worsen, schedule an appointment with us today. We'll help you find the relief you need and get your skin back to looking and feeling its best. Contact us now to book your consultation.
I have a fair complexion and susceptible to skin issues. Enjoy going to their office the doctors and assistants have been very kind. Would recommend this office.
I had a great experience removing my skin cancer on the front of my shoulder a week ago. They were kind, detailed, and took the time to explain the whole process. I am glad I have chosen them to assist with my dermatology needs.
Very professional and skilled! Finally able to resolve some issues I've had in the past that other dermatologists ignored.
Dr. Woseth has long played a critical role in my health, for which I will be forever in his debt. He is one of the nicest and most competent doctors I have ever met.
Very professional. They examined me and explained everything. I will go there for years.
I love this clinic. Every time I go I have a wonderful experience!
Service has always been prompt and professional. The level of care and followup is exceptional.
It was very professional and safe. All the protocols were followed and as usual, the care is exceptional.
Dr. Woseth is thorough, compassionate & patient! Every question answered & great follow up!
My recent appointment went great. All the staff are welcoming. I did not have to wait long. Alisa is always kind and gentle, makes me feel comfortable. I refer all my friends.
Everyone at the office is very caring. I've been a patient here for about 3-4 years and they've taken care of me so well. The treatment they provide has been life changing!
First time doing a skin check and having something removed. They were very nice and fast. It was completely painless and relaxing. Pretty sure I found my new dermatologist.
Schedule Your Appointment Today!