Skip to Content
Tattoo Removal Services in Salt Lake City, South Jordan
Get Your Tattoo Removed Safely
If you have a tattoo or tattoos that you'd like to have removed, you've come to the right place. Swinyer Woseth Dermatology offers tattoo removal services in Salt Lake City, Jordan. We utilize laser tattoo removal technology that makes tattoo removal safer and more effective than ever before. Our team of dermatologists is highly trained and experienced in offering the best tattoo removal services in the area. We encourage you to learn more about tattoo laser removal and get in touch with us to schedule a consultation, whether you live in SLC or South Jordan, UT.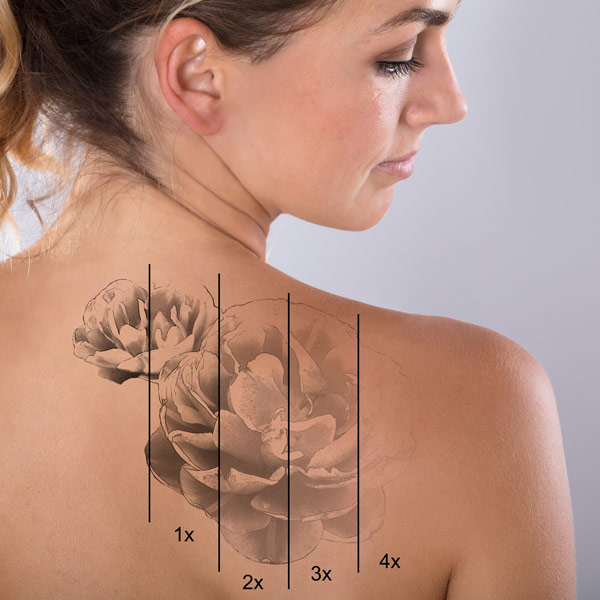 Tattoo Removal Treatments & Procedures
Tattoos are removed safely using lasers. The process does not damage the surrounding skin or tissue. Laser tattoo removal operates on wavelengths that can only be absorbed by the colored ink in tattoos. That tattoo ink is heated by the laser's energy and destroys the ink particles. Your body then eliminates the small pieces of ink broken up by the laser. Tattoos require more than one treatment session. Our dermatologists will examine your tattoo and create a customized treatment plan outlining the number of tattoo laser treatments you'll need. There's no need to continue your search for tattoo removal near me or laser tattoo removal near me because Swinyer Woseth Dermatology has the right team for the job.
What to Expect During & After Your Tattoo Treatment
Each tattoo removal case is unique, and some patients are able to tolerate the process better, while others are more sensitive to the treatment process. We offer topical anesthetics to help you keep comfortable during the laser tattoo removal procedures. Typically patients experience very few side effects with laser tattoo removal, but some may experience temporary redness or swelling. Be sure to protect the treated area from sunlight, but other than that, you can return to your routine activities immediately. It generally takes about six to eight weeks for the treated area to completely heal, allowing you to return for your next tattoo removal session. Many tattoos are removed in three to six sessions.
Why Choose Swinyer Woseth?
We realize you have options when it comes to tattoo removal services in Utah. Swinyer Woseth Dermatology offers comprehensive dermatology services, including cosmetic, and, medical and surgical services, in addition to skincare products and more. We offer surgical, general, and cosmetic dermatology and specialize in treatments involving the skin, hair, nails, and aesthetics. Our team has more than 30 years of experience, and you'll be taken care of by our board-certified dermatologists, licensed cosmetic service providers, and friendly staff. We provide superior skincare for our patients, and everyone's circumstances are unique. Whether you changed your mind about your tattoo or a loved one wants you to have it removed, we can help. A tattoo that seemed like a good idea in your 20s may not be so desirable in your golden years. Getting your tattoo removed starts with a consultation where we can show you tattoo removal before and after photos. Contact us today to schedule your appointment.
I have a fair complexion and susceptible to skin issues. Enjoy going to their office the doctors and assistants have been very kind. Would recommend this office.
I had a great experience removing my skin cancer on the front of my shoulder a week ago. They were kind, detailed, and took the time to explain the whole process. I am glad I have chosen them to assist with my dermatology needs.
Very professional and skilled! Finally able to resolve some issues I've had in the past that other dermatologists ignored.
Dr. Woseth has long played a critical role in my health, for which I will be forever in his debt. He is one of the nicest and most competent doctors I have ever met.
Very professional. They examined me and explained everything. I will go there for years.
I love this clinic. Every time I go I have a wonderful experience!
Service has always been prompt and professional. The level of care and followup is exceptional.
It was very professional and safe. All the protocols were followed and as usual, the care is exceptional.
Dr. Woseth is thorough, compassionate & patient! Every question answered & great follow up!
My recent appointment went great. All the staff are welcoming. I did not have to wait long. Alisa is always kind and gentle, makes me feel comfortable. I refer all my friends.
Everyone at the office is very caring. I've been a patient here for about 3-4 years and they've taken care of me so well. The treatment they provide has been life changing!
First time doing a skin check and having something removed. They were very nice and fast. It was completely painless and relaxing. Pretty sure I found my new dermatologist.
Schedule Your Appointment Today!