Skip to Content
Wrinkles Treatment in Salt Lake City, UT
Helping You Eliminate Wrinkles
If you're tired of those unsightly wrinkles on your face, Swinyer-Woseth Dermatology can help you eliminate wrinkles. Many of our patients ask us how to eliminate wrinkles, and we offer wrinkles treatment in Salt Lake City and South Jordan, UT. We offer a variety of dermatological treatments to help eliminate facial wrinkles, including laser treatment for wrinkles and more. Many people believe that wrinkles are inevitable with age, but you can look as young as you feel when you choose from a variety of wrinkle treatment options. Wrinkles come from aging and skin damage, and premature wrinkles can develop from excessive exposure to the sun, skin disorders, poor nutrition, frequent usage of tobacco products, and more. The good news is that our dermatologists are here to help you learn how to eliminate wrinkles on your face. Get in touch with us today to schedule the best treatment for wrinkles.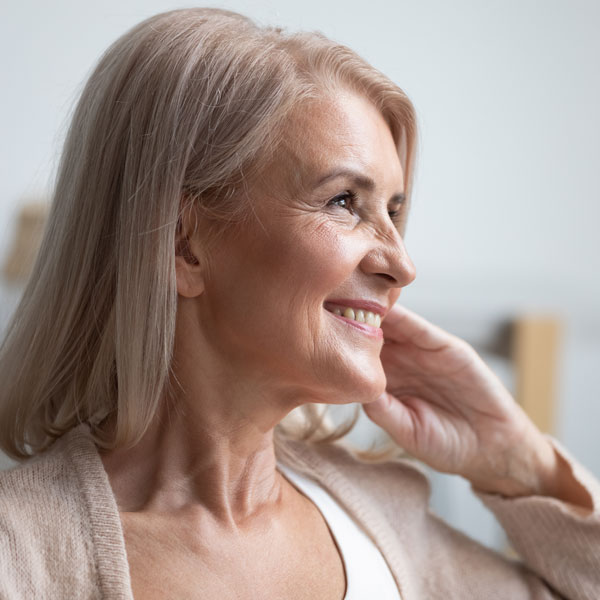 When Should You Have Wrinkles Treated?
The option to have your wrinkles treated is a personal one. While some people are not bothered by their wrinkles, others would prefer to have them eliminated, treated, or removed. Our experienced dermatologists offer the best skin treatment for wrinkles in Utah. Your skin begins to age around 20 years old, and your anti-aging skincare products can be effective to use in your 20s and 30s. Many of our patients ask us when they should begin more effective wrinkle treatments such as Botox. As one of the most popular cosmetic treatments in the United States, Botox does not have a "magic age" associated with it. Botox has been approved for patients 18 and older, and experts recommend that patients may benefit from it in their late 20s and early 30s. Of course, many of our patients are more experienced because wrinkles tend to occur more frequently with age. The best way to find out whether it's a good idea to have your wrinkles treated is to schedule a consultation with our skilled team of dermatologists.
Wrinkles Treatments We Provide
While wrinkles don't bother some people, many find them to be something they'd rather not have. Wrinkles can make you look older or incorrectly convey negative emotional expressions. Having your wrinkles treated can make you appear young and make you feel better about yourself by increasing your self-esteem. Whether you've had wrinkles for years or are just beginning to notice them, Swinyer-Woseth Dermatology offers the best treatment for deep wrinkles at our dermatology practices in South Jordan and Salt Lake City, UT. We can treat forehead creases, crow's feet, brow furrows, and more by reducing the function of facial muscles using Botox. Small amounts of sterile, purified protein are injected into facial muscles to temporarily reduce or eliminate existing skin creases and avoid new creases from appearing. Another treatment for wrinkles utilizes injectable collagen, which fills in fine wrinkles to reduce their visibility. Learn more about some of your wrinkle treatment options:
Laser Skin Resurfacing – We use the best laser treatment for wrinkles. Laser skin resurfacing reduces facial wrinkles caused by acne or sun damage. Short, concentrated beams of pulsating light are directed at areas of irregular skin. New collagen fibers are stimulated while wrinkled skin is removed. Those who are ideal candidates for laser skin resurfacing are patients who have fine lines around or under their eyes, mouth, or forehead, acne scars, wrinkles around or under their eyes, mouth or forehead, or non-responsive skin after a facelift.
Chemical Peels – A chemical peel is an effective wrinkle treatment that removes skin damaged by the sun or other environmental factors. Chemical peels can reduce wrinkles, fine lines, and discolored skin.
Botox – Botulinum toxin type A or Botox® injection therapy blocks chemical signals causing muscles to contract. When Botox is injected into muscles responsible for wrinkles such as eyebrows, patients can experience temporary relief from wrinkles. Botox treatment can be repeated when it wears off.
Fillers – Some people have facial wrinkles that remain at rest. Fillers can be used to lift up or fill in depressed skin. The most commonly treated areas with fillers include prominent folds around the mouth, chin, and nose. The most common filler used to treat wrinkles is hyaluronic acid which is a naturally occurring sugar polymer. Fillers are usually temporary and offer effective wrinkle treatment for four to six months. The filler procedure can be repeated at that time.
How Our Dermatologists Can Help
Whether you want to eliminate wrinkles permanently or temporarily, our dermatologists are proud to offer the best treatment for wrinkles. Everyone wants to look and feel their best, and we offer a variety of effective wrinkle treatments to help you achieve your goals. Our facial plastic surgeons can perform long-lasting wrinkle treatments that feel you looking and feeling younger than ever. Contact us today to get started by scheduling your wrinkle treatment consultation.
Schedule Your Appointment Today!