Skip to Content
Sclerotherapy Procedure in Salt Lake City & South Jordan
We Specialize in Sclerotherapy Treatment
If you are struggling with varicose or spider veins, Swinyer-Woseth Dermatology is here to help. Our team of experienced dermatologists and skin care specialists in Salt Lake City and South Jordan offer non-invasive sclerotherapy treatment to help alleviate discomfort and improve the appearance of these conditions. With our advanced techniques and personalized approach to patient care, we strive to help our patients feel comfortable and confident in their own skin.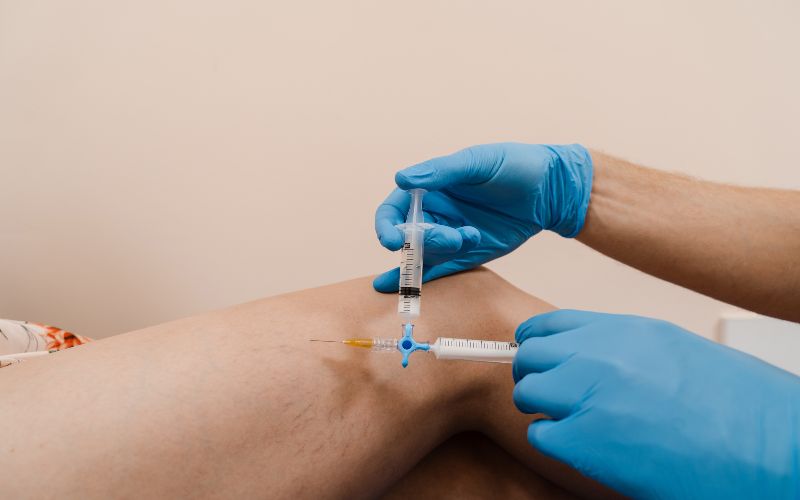 Effective Sclerotherapy Treatment
Sclerotherapy is a well-established and effective treatment for varicose and spider veins that have been in use for over a century. This non-surgical and non-invasive technique involves injecting a foam solution into the affected veins to reduce their appearance and alleviate symptoms such as swelling and burning. Our team is experienced in administering this treatment, which is typically the preferred option for most patients. However, some patients may have veins that are too small for sclerotherapy, in which case laser techniques may be a better option.
What Is Sclerotherapy and How Does It Work?
Sclerotherapy works by injecting a solution into the affected veins, which causes them to collapse and eventually fade away. The solution irritates the lining of the blood vessel, causing it to swell and stick together. This blocks the flow of blood through the vein, and over time, the vein turns into scar tissue that is absorbed by the body. Blood is then naturally rerouted through healthier veins, while the unsightly veins close to the skin's surface are eliminated. The procedure is minimally invasive and typically requires no anesthesia or downtime, making it a popular treatment for varicose and spider veins.
What Can I Expect During Sclerotherapy Treatment?
Sclerotherapy is a minimally invasive procedure that involves injecting a solution through the skin to treat varicose and spider veins. The treatment is quick, lasting anywhere from 15 minutes to an hour, depending on the patient's unique situation and the size of the area being treated. Our experienced team will make a series of small injections in the skin using ultra-fine needles, which may cause some minor stinging or cramping, but discomfort is generally mild. After the injection is complete, the treated area will be lightly massaged. Patients should note that the time and cost of the procedure may vary depending on their individual needs.
Sclerotherapy Aftercare
After receiving sclerotherapy treatment, patients can immediately return to their normal daily activities without any downtime. Compression socks or bandages will be worn for around three weeks following the treatment to reduce swelling and promote healing. Patients should avoid exposing the treated areas to direct sunlight. If additional treatment is needed, our team will schedule it for about four to six weeks after the initial procedure.
Why Choose Us?
At Swinyer-Woseth Dermatology, we believe that everyone should feel comfortable in their own skin. Our sclerotherapy treatment is just one of the many ways we can help you achieve this goal. With two convenient locations in Salt Lake City and South Jordan, we are dedicated to providing comprehensive dermatology services that meet your individual needs. If you're ready to take the first step towards smoother, healthier-looking skin, contact us today to schedule a consultation with one of our experienced dermatologists. Let us help you put your best foot forward and feel confident in your own skin.
I have a fair complexion and susceptible to skin issues. Enjoy going to their office the doctors and assistants have been very kind. Would recommend this office.
I had a great experience removing my skin cancer on the front of my shoulder a week ago. They were kind, detailed, and took the time to explain the whole process. I am glad I have chosen them to assist with my dermatology needs.
Very professional and skilled! Finally able to resolve some issues I've had in the past that other dermatologists ignored.
Dr. Woseth has long played a critical role in my health, for which I will be forever in his debt. He is one of the nicest and most competent doctors I have ever met.
Very professional. They examined me and explained everything. I will go there for years.
I love this clinic. Every time I go I have a wonderful experience!
Service has always been prompt and professional. The level of care and followup is exceptional.
It was very professional and safe. All the protocols were followed and as usual, the care is exceptional.
Dr. Woseth is thorough, compassionate & patient! Every question answered & great follow up!
My recent appointment went great. All the staff are welcoming. I did not have to wait long. Alisa is always kind and gentle, makes me feel comfortable. I refer all my friends.
Everyone at the office is very caring. I've been a patient here for about 3-4 years and they've taken care of me so well. The treatment they provide has been life changing!
First time doing a skin check and having something removed. They were very nice and fast. It was completely painless and relaxing. Pretty sure I found my new dermatologist.
Schedule Your Appointment Today!