Skip to Content
Psoriasis Treatment in Salt Lake City, South Jordan
We Specialize in Psoriasis Treatment
Psoriasis is a chronic autoimmune condition that causes the rapid buildup of skin cells, resulting in red, scaly patches on the skin. It affects millions of people worldwide, including those living in Salt Lake City and South Jordan. If you or a loved one is struggling with psoriasis, Swinyer-Woseth Dermatology can help. Our board-certified dermatologists have extensive experience in diagnosing and treating psoriasis, and we offer a range of cutting-edge treatments to help manage this condition. From topical treatments and light therapy to medications, we can develop a personalized treatment plan that fits your unique needs. Contact us today to schedule an appointment and start your journey towards clearer, healthier skin.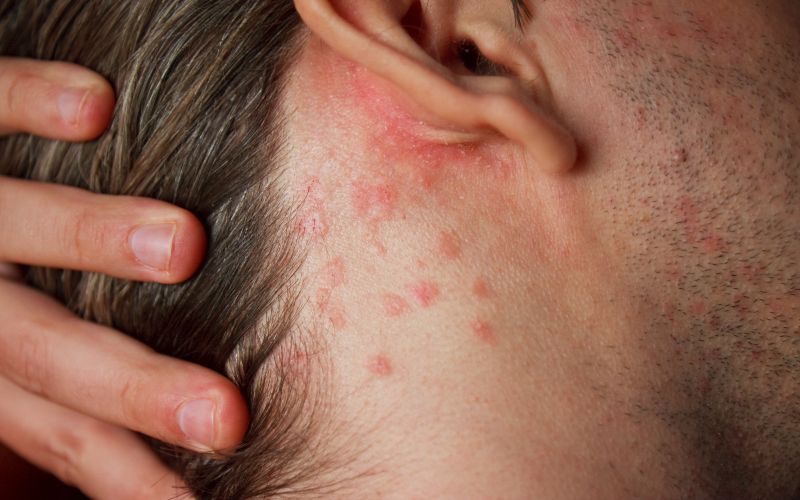 What Is Psoriasis?
Psoriasis is a chronic autoimmune condition that causes skin cells to build up rapidly on the surface of the skin, forming scales and red, itchy patches that can be painful and unsightly. This condition can affect any part of the body, but it is most commonly found on the scalp, elbows, knees, and lower back. Psoriasis is not contagious, and while the exact cause is unknown, it is believed to be related to an overactive immune system. There is no cure for psoriasis, but there are many effective treatments available to manage the symptoms and improve the quality of life.
Causes of Psoriasis
The exact cause of psoriasis is not known, but it is believed to be a combination of genetic and environmental factors. It may be an autoimmune disorder, in which the immune system mistakenly attacks healthy skin cells, causing an overproduction of new skin cells. This leads to the characteristic skin changes of psoriasis, such as red, scaly patches on the skin. Triggers for psoriasis can include stress, infections, certain medications, and skin injuries. In some cases, psoriasis may be associated with other health conditions, such as arthritis.
Types of Psoriasis
Psoriasis is an autoimmune disease that manifests in various ways, with the typical symptom being scaly, patchy skin, often confused with eczema. Each type of psoriasis has similar signs, but they also have differences that require a proper diagnosis for treatment. The different types of psoriasis include:
Plaque Psoriasis – The most common type of psoriasis, which displays white-silvery scaly spots on the elbows, knees, scalp, and lower back.
Guttate Psoriasis – Guttate psoriasis is characterized by the development of small, scaly, red patches on the skin. It is often observed in children following an infection.
Inverse Psoriasis – The distinguishing feature of this form of psoriasis is a glossy, smooth patch that appears in skin folds where skin rubs against itself, like in the underarms, groin area, or beneath the breasts.
Pustular Psoriasis – Individuals who suffer from pustular psoriasis may experience scaly skin, however, the distinguishing feature is the formation of blisters filled with pus that appear on the hands and feet.
Erythrodermic Psoriasis – Erythrodermic psoriasis is a type of psoriasis that is quite severe, and it affects a large part of the body. It is characterized by red, scaly skin that comes off in larger sheets.
Medical Treatment of Psoriasis
Psoriasis is a chronic condition with no cure, but there are various treatment options available to manage the symptoms, including topical medications, such as corticosteroids, retinoids, and calcineurin inhibitors, which can be applied directly to the affected area. Light therapy, also known as phototherapy, uses ultraviolet light to slow the production of skin cells. Systemic medications, including oral or injectable drugs, can also be used to treat moderate to severe psoriasis. Biologic drugs, which are made from living cells, can target specific parts of the immune system that are involved in psoriasis. Additionally, natural psoriasis treatments and lifestyle modifications such as avoiding triggers, maintaining a healthy weight, and reducing stress can also help manage psoriasis. An experienced dermatologist can help determine the most appropriate treatment plan for an individual's specific case of psoriasis.
Schedule a Psoriasis Consultation Today
At Swinyer-Woseth Dermatology, we understand how frustrating and uncomfortable living with psoriasis can be. We offer a wide range of psoriasis treatments, including topical medications, oral medications, biologic medications, and phototherapy. Our board-certified dermatologists will work with you to develop a personalized treatment plan to help manage your psoriasis symptoms and improve your quality of life. Contact us today to schedule an appointment and take the first step towards clearer, healthier skin.
I have a fair complexion and susceptible to skin issues. Enjoy going to their office the doctors and assistants have been very kind. Would recommend this office.
I had a great experience removing my skin cancer on the front of my shoulder a week ago. They were kind, detailed, and took the time to explain the whole process. I am glad I have chosen them to assist with my dermatology needs.
Very professional and skilled! Finally able to resolve some issues I've had in the past that other dermatologists ignored.
Dr. Woseth has long played a critical role in my health, for which I will be forever in his debt. He is one of the nicest and most competent doctors I have ever met.
Very professional. They examined me and explained everything. I will go there for years.
I love this clinic. Every time I go I have a wonderful experience!
Service has always been prompt and professional. The level of care and followup is exceptional.
It was very professional and safe. All the protocols were followed and as usual, the care is exceptional.
Dr. Woseth is thorough, compassionate & patient! Every question answered & great follow up!
My recent appointment went great. All the staff are welcoming. I did not have to wait long. Alisa is always kind and gentle, makes me feel comfortable. I refer all my friends.
Everyone at the office is very caring. I've been a patient here for about 3-4 years and they've taken care of me so well. The treatment they provide has been life changing!
First time doing a skin check and having something removed. They were very nice and fast. It was completely painless and relaxing. Pretty sure I found my new dermatologist.
Schedule Your Appointment Today!