Skip to Content
Skin Cancer Treatment in Salt Lake City and South Jordan
We Specialize in Skin Cancer Treatment
Protecting our skin from the sun's harmful rays is essential for maintaining healthy skin. Unfortunately, skin cancer is still one of the most common types of cancer in the United States. At Swinyer-Woseth Dermatology, we offer advanced skin cancer treatments in Salt Lake City and South Jordan, UT. Our board-certified dermatologists specialize in the diagnosis and treatment of skin cancer, including Mohs surgery, a highly effective and precise procedure. If you have concerns about the causes of skin cancer or have noticed any suspicious spots on your skin, schedule a consultation with us today to learn more about our treatments and how we can help protect your skin.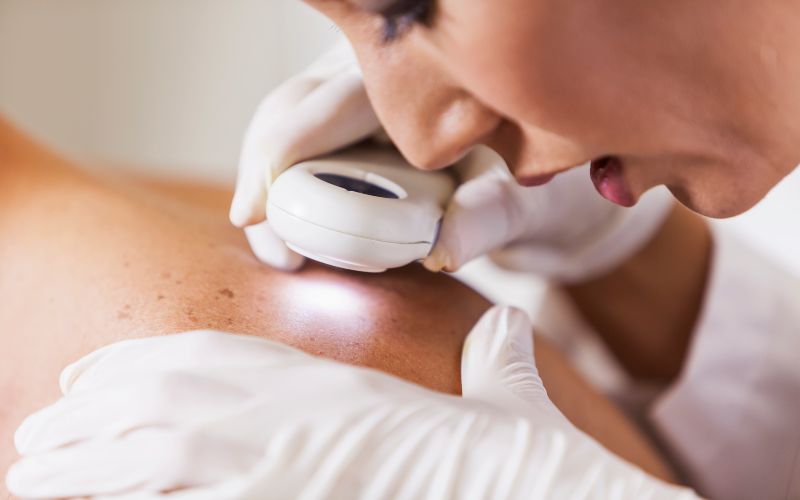 Types of Skin Cancer
Skin cancer is a serious health concern that affects millions of people worldwide. There are several types of skin cancer, including:
Basal Cell Carcinoma – Basal cell carcinoma is the most prevalent form of skin cancer, and a majority of people will experience at least one during their lifetime. The growths of basal cell carcinoma are recognizable as they appear as pearly, translucent lumps that can crust, bleed, or ulcerate. While this type of skin cancer is not typically deadly, it can be harmful to the affected tissue and may lead to disfigurement. Treatment options such as chemical therapy, cryosurgery using liquid nitrogen, and excision can be implemented.
Squamous Cell Carcinoma – Squamous cell carcinomas share similarities in appearance with basal cell carcinomas, but they tend to be more aggressive. Although uncommon, this type of skin cancer can spread internally. Therefore, patients who have had squamous cell carcinomas are usually closely monitored after treatment to ensure that there is no sign of persistence or recurrence. Excision is usually the preferred treatment option for squamous cell carcinomas.
Malignant Melanoma – Malignant melanoma is a type of skin cancer that has the potential to be life-threatening. It can develop from an existing mole or from normal skin. Symptoms include pigmented lesions that are asymmetrical in shape, have irregular edges, are multicolored, and have unusual thickening or dramatic growth. Early detection is crucial in treating melanoma, as it almost 100% curable. Keep an eye on any moles or lesions, and schedule regular skin cancer screenings with a dermatologist.
How Is Skin Cancer Treated?
Skin cancer treatment depends on the type, size, location, and extent of cancer. In some cases, simple excision of the cancerous tissue is sufficient, while in others, more advanced skin cancer surgery techniques may be necessary. Treatment options include topical chemical therapy, cryosurgery with liquid nitrogen, excision, Mohs surgery, radiation therapy, and immunotherapy. Treatment success rates are highest when skin cancer is detected early.
Contact Swinyer-Woseth Dermatology Today
We understand that the idea of skin cancer can be frightening, but our team at Swinyer-Woseth Dermatology is here to help. With our state-of-the-art technology, highly trained medical professionals, and personalized approach to care, we are committed to providing our patients with the best possible outcomes. If you have any concerns or suspect that you may have skin cancer, don't wait to seek medical attention. Contact us today to schedule a consultation at one of our two convenient locations in Salt Lake City and South Jordan, UT.
I have a fair complexion and susceptible to skin issues. Enjoy going to their office the doctors and assistants have been very kind. Would recommend this office.
I had a great experience removing my skin cancer on the front of my shoulder a week ago. They were kind, detailed, and took the time to explain the whole process. I am glad I have chosen them to assist with my dermatology needs.
Very professional and skilled! Finally able to resolve some issues I've had in the past that other dermatologists ignored.
Dr. Woseth has long played a critical role in my health, for which I will be forever in his debt. He is one of the nicest and most competent doctors I have ever met.
Very professional. They examined me and explained everything. I will go there for years.
I love this clinic. Every time I go I have a wonderful experience!
Service has always been prompt and professional. The level of care and followup is exceptional.
It was very professional and safe. All the protocols were followed and as usual, the care is exceptional.
Dr. Woseth is thorough, compassionate & patient! Every question answered & great follow up!
My recent appointment went great. All the staff are welcoming. I did not have to wait long. Alisa is always kind and gentle, makes me feel comfortable. I refer all my friends.
Everyone at the office is very caring. I've been a patient here for about 3-4 years and they've taken care of me so well. The treatment they provide has been life changing!
First time doing a skin check and having something removed. They were very nice and fast. It was completely painless and relaxing. Pretty sure I found my new dermatologist.
Schedule Your Appointment Today!