Skip to Content
PRP Therapy in Salt Lake City and South Jordan
Hair Restoration With PRP
If you're suffering from premature hair loss or the effects of alopecia, Swinyer Woseth Dermatology in Salt Lake City and South Jordan is here to bring you radiant results with our innovative Eclipse PRP system, a PRP hair restoration technology that helps to naturally stimulate and restore hair growth.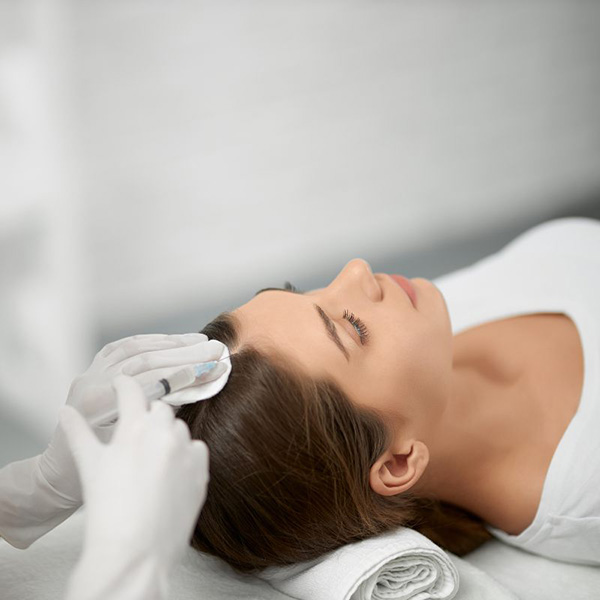 Understanding PRP Hair Restoration Therapy
Platelet-rich plasma therapy, also known as PRP, uses growth factors found in the patient's own platelets to stimulate hair growth. The patient's blood is drawn and placed in a specialized machine that separates the plasma from the blood. The plasma is then injected directly into the patient's scalp.
The Purpose of PRP Therapy
PRP hair therapy is a natural hair restoration method that targets areas affected by hair loss by stimulating the follicles. This treatment can be instrumental for patients experiencing pattern baldness, hair thinning, and even aged hair, restoring the shine and lustre of the hair.
The Benefits of PRP Hair Rejuvenation
PRP therapy is a revolutionary treatment that offers the following benefits:
Natural hair growth
Non-surgical procedure
Improved hair thickness
Restores dry or weak hair
A faster growth phase of the hair cycle
No treatment reactions, as it uses your own blood
No downtime
Rapid treatment time, taking a maximum of 60 minutes
Cost-effective
Stunning, natural results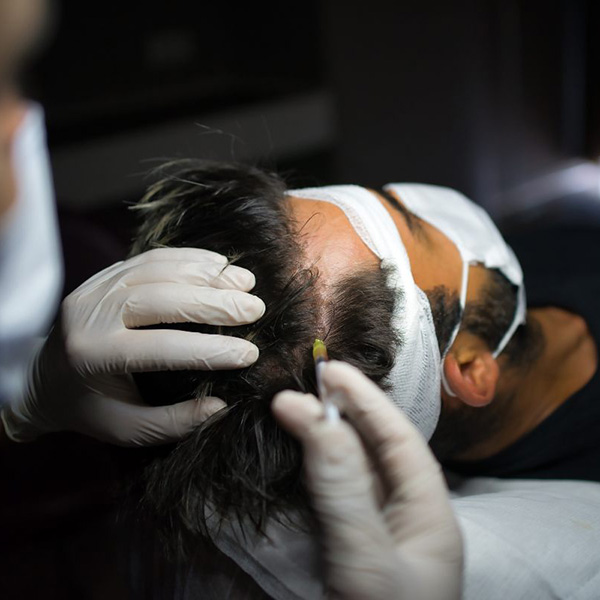 Who Is a Candidate?
Hair restoration is suitable for both men and women who are experiencing the beginning stages of hair loss. Candidates include patients who suffer from premature hair loss, such as androgenetic alopecia or alopecia areata. This treatment is also beneficial for patients who may have hair loss due to tight hairstyles resulting in broken or fragile hair.
Side Effects and Downtime of PRP Therapy
PRP hair restoration therapy offers minimal discomfort, due to the minuscule size of the needles used during treatment. Once the treatment is completed, it is normal to experience a sensation of heat in the treated area. You will be ready to go back to your regular day-to-day activities immediately post-treatment.
Risks of PRP Hair Restoration Therapy
As this treatment uses growth factors derived from your own body, there is a very low risk of reactions. However, post-treatment, you may experience the following:
Tenderness in the scalp around the injection site
Slight swelling
An itchy feeling
Minor bleeding from the injection site
Get the Hair Growth Results You Deserve
Everyone deserves to feel beautiful. At Swinyer Woseth Dermatology, we make it our mission to eliminate any negative feelings you may be experiencing and replace them with stunning hair growth results that will amplify your natural beauty and confidence for years to come.
Schedule Your PRP Hair Restoration Procedure Today
If you're ready to experience the astounding results of Swinyer Woseth Dermatology's advanced hair growth treatment, the first step is a consultation with one of our friendly dermatologists. Contact our Salt Lake City or South Jordan clinic today to schedule your PRP hair restoration therapy appointment!
Schedule Your Appointment Today!