Skip to Content
Folliculitis Treatment in Salt Lake City, South Jordan
We Specialize in Folliculitis and Impetigo Treatment
While bacteria is a necessary part of our body's functions, certain types of bacteria can cause infections like impetigo and folliculitis. These skin infections can cause a range of problems that require the expertise of a dermatologist to treat. Seeking a professional diagnosis is essential to ensure the right treatment for your skin breakout. At Swinyer-Woseth Dermatology in Salt Lake City and South Jordan, we offer quick and convenient consultations to help you restore your skin's natural radiance. If you are suffering from folliculitis or impetigo, schedule an appointment with us today.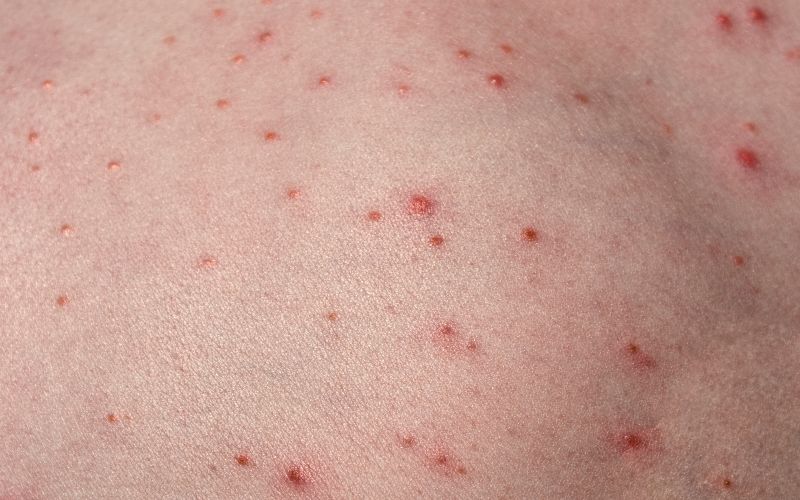 Bacterial Skin Infections Diagnosis
To diagnose bacterial infections of the skin, dermatologists typically begin with a physical examination of the affected area. During the exam, they will look for signs of inflammation, such as redness, swelling, and warmth, as well as any visible signs of pus or discharge. They may also ask questions about the patient's medical history and any symptoms they are experiencing. In some cases, a skin biopsy may be necessary to confirm the diagnosis. Once the type of bacterial infection is identified, a dermatologist can develop an effective treatment plan tailored to the patient's specific needs. It's important to seek medical attention promptly for any skin infections to prevent further complications.
Are You Suffering from Folliculitis?
Folliculitis, a common condition that causes hair follicle inflammation, is often caused by the bacteria Staphylococcus (Staph), and typically appears in areas other than the face, chest, and upper back. If you're experiencing breakouts in these areas, it's likely that you have folliculitis. Though the condition usually resolves itself within a few weeks, you may try applying warm compresses or medicated shampoo to relieve itching and reduce the number of bacteria on your skin. If the condition persists, it's important to visit the experienced dermatologists at Swinyer-Woseth Dermatology for an accurate diagnosis and effective folliculitis scalp treatment with topical or oral antibiotics. Our professionals will also recommend techniques to prevent future outbreaks.
Are You Suffering from Impetigo?
Staphylococcus (Staph) can cause Impetigo, which is a skin infection that is highly contagious and commonly seen in children attending daycare facilities and schools. It usually starts with small blisters around the nose and mouth and progresses to a honey-colored crust with redness around it. To ensure proper treatment and to avoid further spread, it's important to consult a dermatologist for Impetigo treatment. Topical and/or oral antibiotics are commonly used to treat this condition. Home care is also important, including cleaning the affected areas, washing hands after touching them, and avoiding scratching. If a child is infected, they can return to school a day after starting the treatment.
How Does Swinyer-Woseth Dermatology Treat Skin Conditions?
Swinyer-Woseth Dermatology offers several treatments for bacterial infections such as folliculitis and impetigo. Depending on the severity of the infection, we may recommend topical or oral antibiotics. We can also prescribe medicated shampoos or creams to help reduce bacteria on the skin. In addition to medication, we may recommend using warm compresses to alleviate symptoms such as itching and pain. Our experienced team will work with you to determine the best course of treatment for your specific condition.
Why Choose Us?
If you are experiencing symptoms of folliculitis or impetigo, don't hesitate to seek medical attention from our experienced dermatologists at Swinyer-Woseth Dermatology in Salt Lake City and South Jordan. Our team of professionals is dedicated to providing effective treatments for a wide range of skin conditions, including bacterial infections. We offer personalized and comprehensive care to help you achieve healthy and beautiful skin. To schedule a consultation with one of our dermatologists, contact us today.
I have a fair complexion and susceptible to skin issues. Enjoy going to their office the doctors and assistants have been very kind. Would recommend this office.
I had a great experience removing my skin cancer on the front of my shoulder a week ago. They were kind, detailed, and took the time to explain the whole process. I am glad I have chosen them to assist with my dermatology needs.
Very professional and skilled! Finally able to resolve some issues I've had in the past that other dermatologists ignored.
Dr. Woseth has long played a critical role in my health, for which I will be forever in his debt. He is one of the nicest and most competent doctors I have ever met.
Very professional. They examined me and explained everything. I will go there for years.
I love this clinic. Every time I go I have a wonderful experience!
Service has always been prompt and professional. The level of care and followup is exceptional.
It was very professional and safe. All the protocols were followed and as usual, the care is exceptional.
Dr. Woseth is thorough, compassionate & patient! Every question answered & great follow up!
My recent appointment went great. All the staff are welcoming. I did not have to wait long. Alisa is always kind and gentle, makes me feel comfortable. I refer all my friends.
Everyone at the office is very caring. I've been a patient here for about 3-4 years and they've taken care of me so well. The treatment they provide has been life changing!
First time doing a skin check and having something removed. They were very nice and fast. It was completely painless and relaxing. Pretty sure I found my new dermatologist.
Schedule Your Appointment Today!