Skip to Content
Hives Treatment at
Swinyer-Woseth

Dermatology

At Swinyer-Woseth Dermatology, our team of board-certified dermatologists is here to help South Jordan and Salt Lake City, UT residents treat their urticaria, more commonly known as hives. If you are experiencing an outbreak of red dots on your skin, don't worry! Though itchy and uncomfortable, hives are rarely serious or dangerous. In fact, this type of skin rash is one of the most common medical ailments, and people of all ages are susceptible to developing it for a number of reasons. When you rely on our clinic for comprehensive dermatology services, you can rest assured that we will determine the type, cause, and effective treatment for your hives.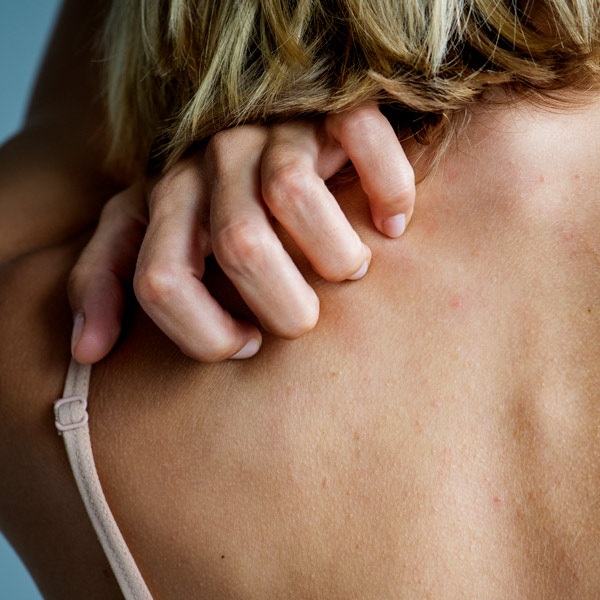 What Causes Hives?
Hives occur when the body releases histamine, which is a natural compound that responds to things like inflammation, acute stress, or infection. When the body releases this compound, the blood vessels under the skin – also known as capillaries – begin to enlarge. This expansion is what we see on the skin as hives. The exact cause of hives is unknown, but they are typically a response to some type of allergic reaction. We understand that many foods and medications can cause hives to form, though there are many factors that are linked to outbreaks. These include the following:
Infection
Excessive scratching
Sun exposure
Extreme temperatures
Exercise
Pressure on the skin
Excessive rubbing of the skin
Anxiety and stress
As seasoned dermatologists, we frequently see stress play a major role in hives symptoms. Called stress hives, these types of rashes result in swelling of the face and neck. Though this type of urticaria will generally go away on its own once a patient's stress levels decline, serious cases of stress hives can cause severe swelling. It is important to understand the different types of hives to understand the appropriate ways to treat them.
What Are the Different Types of Hives?
Hives are generally brought on as a result of the body's reaction to specific allergens or for other, typically unknown reasons. They can suddenly appear anywhere on the body and will look like swollen, pale red bumps or plaques (wheals). Most people begin to notice they have developed hives due to itchy, red spots on the skin, though some hives rashes may burn or sting. Additionally, some patients come to our clinic with a condition similar to and associated with hives, called angioedema. Unlike hives, however, angioedema is swelling that occurs beneath the skin rather than on the surface. Both hives and angioedema outbreaks can be as brief as an hour or persist up to a six-week timespan, though in most cases, patients exhibiting these rashes will have nothing to worry about. However, some cases will include more serious symptoms than others and should be examined by a professional dermatologist to rule out any underlying issues.
The different types of hives include:
Acute urticaria or angioedema – These types of hives last for less than six weeks. The most common causes of these types of hives are foods, medicines, latex, or infections. The most common foods that cause acute urticaria or angioedema include milk, eggs, soy, wheat, fish, shellfish, and peanuts. Additionally, penicillin, anti-seizure medications, and non-steroidal anti-inflammatory drugs are known to cause acute urticaria or angioedema.
Chronic urticaria or angioedema – These are recurring hives that last longer than six weeks per episode. The reason for these types of hives is typically more challenging to identify. The causes are thought to be similar to acute urticaria, but may also include autoimmunity, malignancy, and viral infections.
Physical urticaria – These are hives that are caused by direct physical stimulation from sunlight. They can also be caused by exposure to cold air or water, heat, sweating, pressure, or exercise.
Dermatographism – These are hives that are caused by scratching or continual stroking of the skin, as well as from wearing tight-fitting clothes that rub the skin. Dermatographism is usually found in conjunction with other types of hives.
Hereditary angioedema – This rare form of hives is passed on in families and is more serious than others, as it causes painful, non-itchy swelling of the skin. These hives will typically be located on the face, extremities, genitals, tongue, or throat.
How to Treat Hives
Before treating hives, your doctor or one of our specialized dermatologists will need to perform a full medical history evaluation and physical examination. Additionally, you will likely need a skin test to determine the allergen causing your hives rash. Blood testing is also used to determine if there are any underlying illnesses or diseases that could be causing these skin rashes.
While acute hives will typically alleviate themselves within hours or days, chronic hives are a bit more serious and will need to be treated. Since there is no specific test for hives or the associated swelling of angioedema, we have found that the best way to effectively treat these conditions is to identify and remove any potential triggers. If hives become painful, we will generally prescribe patients an antihistamine medication. This medication works to decrease histamine release and manage chronic conditions of hives or angioedema. For those who suffer from severe outbreaks, an injection of epinephrine may be necessary for treatment.
Managing Your Hives in The Meantime
If you begin noticing hives symptoms, like itchy skin or rashes, do not hesitate to reach out to the qualified team of dermatologists at Swinyer-Woseth Dermatology. We can help you get the relief you need and the treatment options you deserve. If your symptoms persist before we can meet with you by appointment, we recommend the following three tips to alleviate irritation:
Apply a cold compress or wet cloth to the affected area
Try to work and sleep in a cool room
Wear only loose-fitting, lightweight clothes
If you or someone you know in the South Jordan, UT area is suffering from hives that exhibit extreme symptoms or won't seem to go away, it is imperative that you contact our medical clinic for support. We look forward to finding the underlying cause of your hives so you can get back to living your life, rash-free.
I have a fair complexion and susceptible to skin issues. Enjoy going to their office the doctors and assistants have been very kind. Would recommend this office.
I had a great experience removing my skin cancer on the front of my shoulder a week ago. They were kind, detailed, and took the time to explain the whole process. I am glad I have chosen them to assist with my dermatology needs.
Very professional and skilled! Finally able to resolve some issues I've had in the past that other dermatologists ignored.
Dr. Woseth has long played a critical role in my health, for which I will be forever in his debt. He is one of the nicest and most competent doctors I have ever met.
Very professional. They examined me and explained everything. I will go there for years.
I love this clinic. Every time I go I have a wonderful experience!
Service has always been prompt and professional. The level of care and followup is exceptional.
It was very professional and safe. All the protocols were followed and as usual, the care is exceptional.
Dr. Woseth is thorough, compassionate & patient! Every question answered & great follow up!
My recent appointment went great. All the staff are welcoming. I did not have to wait long. Alisa is always kind and gentle, makes me feel comfortable. I refer all my friends.
Everyone at the office is very caring. I've been a patient here for about 3-4 years and they've taken care of me so well. The treatment they provide has been life changing!
First time doing a skin check and having something removed. They were very nice and fast. It was completely painless and relaxing. Pretty sure I found my new dermatologist.
Schedule Your Appointment Today!