Skip to Content
How to Do a Self-Exam of Your Skin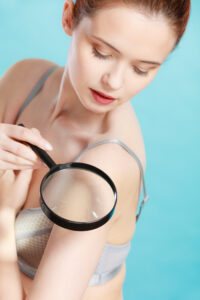 You've probably heard that with skin cancer, as with most kinds of cancer, early detection is important for effective treatment. Did you know, though, that skin cancer detection does not require any special equipment or blood tests? All you need is a mirror and your eyes to detect skin cancer and make sure to have it treated quickly.
Ask your doctor how often you should have a professional skin cancer screening. Once a month, however, you should examine your own skin. Do this in a well-lit room, in front of a full-length mirror, using a hand-held mirror to look at hard to see areas and possibly enlisting the help of a spouse, partner, close friend, or family member to help with the places you can't see.
The first time you do it, carefully go over your entire body. Pay attention to the moles, freckles, and other marks on your skin, so that you'll know if anything changes. If anything seems concerning, show your doctor as soon as possible. The best time to do a self-check is after a bath or shower. Standing in front of a full-length mirror, follow these steps:
Face the mirror. Check your face, ears, neck, chest, and belly. If necessary, lift your breasts to check underneath them. Examine your underarm areas, the sides of your arms, the tops and palms of your hands, between your fingers, and under your fingernails.
Sit down. Check the fronts of your thighs, your shins, the tops of your feet, in between your toes, and under the toenails.
Use a hand mirror. Look at the bottoms of your feet, your calves, and the backs of your thighs. Check your buttocks, genital area, upper and lower back, and the back of your neck and ears. Part your hair and check your scalp.
Know what you're looking for. Skin cancers show up in many different sizes and shapes, which is why it's important to know what's normal on your body. When you're checking your skin, look for any new, changing, or expanding mole, growth, bump, or spot on the skin. Check for sores that bleed and don't heal quickly, or rough or scaly red patches. You should also look for wart-like growths, and moles that are oddly shaped or have irregular color and borders. If anything looks suspicious to you, see your dermatologist for further evaluation and possibly a biopsy.
When you need help caring for your skin, Swinyer-Woseth Dermatology is committed to providing superior, professional care that's practical, efficient, and compassionate. With over 30 years of experience providing dermatological services in Salt Lake City, we provide a variety of services, from cosmetic skincare to treatment for skin cancer. Our team of board-certified dermatologists, licensed cosmetic service providers, and friendly staff members is here to provide you the care you need in a comfortable, professional atmosphere. For more information, contact us through our website or call 801.682.4715 today.