Skip to Content
Chemical Peels to Improve your Skin in Salt Lake City, South Jordan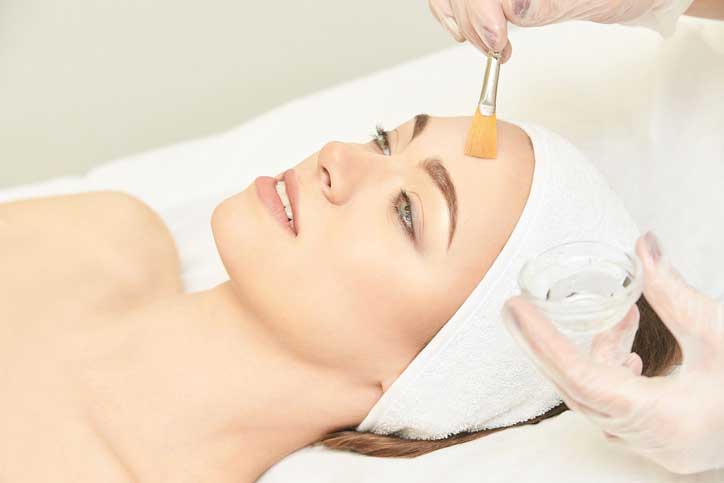 The purpose of a chemical peel is to improve the appearance and texture of your skin. Many types of chemical agents can accomplish this, depending on the type of damage you're hoping to treat. Learn more about the four types of chemical peels we offer.
What Do Chemical Peels Treat?
All chemical peels are applied by brushing an acidic liquid onto the skin. The purpose is to remove the top layers of skin to encourage new, younger-looking cell growth. Chemical peels aim to treat the following conditions:
Dull color
Uneven texture
Enlarged pores
Photodamage, also known as sunspots, age spots, or liver spots
Mild acne scarring
Blotchiness
Mild to moderate fine lines and wrinkles
Actinic keratoses or other precancerous skin growths (chemical peels are supplementary to other therapies)
Who Should Not Get Chemical Peels?
While they are considered safe when administered by a qualified dermatologist, chemical peels aren't right for everyone. You may need to avoid having a chemical peel if you:
Are pregnant or breastfeeding
Have taken Accutane or other acne medications in the past six months
Have a dark complexion, sensitive skin, or extremely fair skin tone
Are prone to keloids, ridged areas caused by an overgrowth of scar tissue
Have a history of frequent or severe cold sores
Before you have a chemical peel, you may need to take antiviral medications, apply retinoid cream, and use a bleaching agent. You should also discontinue facial waxing one week before your chemical peel.
Types of Chemical Peels
The mildest chemical peels (glycolic and salicylic acid peels) are "lunch break procedures" that require no downtime and cause no true peeling. Deeper peels (TCA and Jessner's peels) penetrate further into the skin with significant, though temporary, peeling, and inflammation.
Glycolic Acid Peels: For visible results with little to no recovery time, consider a glycolic acid peel. This option gently resurfaces your skin to reveal a smoother, younger-looking complexion with improved texture and more even skin tone.
Salicylic Acid Peels: A five-minute renewal treatment is enough to lift dead skin cells from your face, stimulate new skin growth, and leave your face looker softer and more radiant than ever. Even acne scars and enlarged pores become less apparent. No recovery time is required with a salicylic acid peel.
Trichloroacetic Acid (TCA) Peels: This medium-depth treatment is a little more aggressive than glycolic and salicylic acid peels. This peel improves the appearance of dull and weathered skin, wrinkles, and acne scars.
Jessner's Solution Peels: Store-bought Jessner's peels are only superficial, while those performed by a dermatologist are medium-depth. Jessner's can be administered on its own or added to TCA to increase its effectiveness on scars and pigmentation.
If you're interested in learning more about chemical peels, or you're ready to schedule your appointment, please contact us online or call 801-266-8841 to speak with a board-certified dermatologist in Salt Lake City about your skincare needs.