Skip to Content
Common Skin Conditions in the Elderly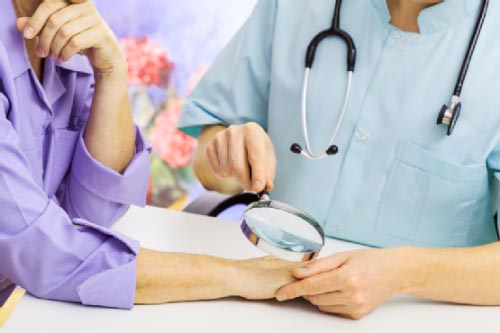 As we age, our skin ages right along with us. However, like most things with the body, the skin is more prone to problems among the elderly than it is among the youth. Some skin problems, such as wrinkles, laugh lines, and dry skin, are normal and can be helped with some relatively simple tricks from your dermatologist. Other problems, such as skin cancer, are much more serious and require specialized medical services from a qualified dermatologist.
Itchy or Dry Skin
Skin that feels dried out or constantly itches is a very common complaint among the elderly. This skin problem is usually simply due to the aging process and the loss of oil glands that accompanies it. With less oil production, the skin is no longer able to adequately moisturize itself and may need specialized skincare products for the nourishment it needs. Dry or itchy skin is also commonly associated with other health problems common in the elderly, such as diabetes or problems with the liver or kidneys.
Skin Cancer
The more sun exposure the skin has, the more likely it is to develop cancer, so it's not surprising that people who have been alive longer have a greater risk of skin cancer. Unfortunately, age spots are also common, so many elderly people ignore changes in the skin that could indicate cancer by dismissing them as age spots. You should be examined by a dermatologist whenever you notice strange changes on the skin.
Bedsores
Decreased mobility often forces the elderly to lie in the same position for long periods of time. This constant pressure from body weight, combined with a natural decline in circulatory function, makes the skin vulnerable to the painful ulcers known as bed sores.
At Swinyer – Woseth Dermatology, we provide compassionate skin and medical care for all of our patients, including the elderly. From skin cancer treatment to premium skincare products, we can help you stay comfortable in your own skin. Visit our website to learn more about our practice and medical services in the Salt Lake City area, or call 801-266-8841 for an appointment.