Skip to Content
How to Care for Your Skin While Wearing a Face Mask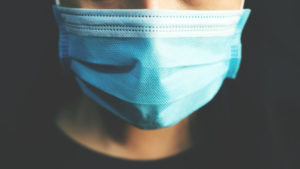 During the COVID-19 pandemic, we've had to make a lot of adjustments to the way we live. Working from home, learning online, and social distancing are all examples of the ways that life has shifted since early 2020. One of the most significant challenges for many people, though, is the need to wear masks consistently. Even hospital workers are having to adjust, because while they used to wear masks for short stretches, they're now having to wear them for many hours at a time. This can take a toll on the skin. Whether you're wearing a mask for short stretches or all day, what's the best way to take care of your skin?
Be aware of maskne. Tight-fitting masks effective, but they can cause problems for your skin. Abrasions, curs, redness, acne, irritation, and hyperpigmentation can all result from wearing masks. Make sure your mask is not too tight, and if your skin becomes irritated, use an ointment to create a barrier and help it heal. Masks can also trap dirt, sweat, and oil on the skin, which can cause problems like eczema, rosacea, blackheads, and acne.
Keep your face scrupulously clean. Polish, cleanse, and nourish your skin daily, and wash your face before and after wearing a mask. Use a gentle cleanser, rinsing thoroughly. If you have oily skin, look for a cleanser with salicylic acid. Spot treat any blemishes that pop up.
Use lightweight moisturizer. It's important to keep your skin hydrated, but don't wear anything too heavy. Hyaluronic acid moisturizers are a good choice, because they have anti-inflammatory properties.
Choose the right mask and keep it clean. Avoid coverings made of synthetic fibers like polyester and spandex. Instead, choose masks made of natural fibers, like cotton, bamboo, or natural silk. Wash your mask daily, preferably with fragrance-free detergent, and add a splash of white vinegar to the wash, for its antibacterial, antiviral, antifungal properties.
Be smart about makeup. Adapt your beauty routines to your new, mask-wearing norm. Skip the foundation if you can, keeping makeup to the bare minimum. Hydrate your lips with lip balm.
Play up your eyes. Since people are only going to be seeing the top half of your face, now is the perfect time to get creative and play around with eye makeup!
When you need help caring for your skin, Swinyer-Woseth Dermatology is committed to providing superior, professional skin care in a manner that's practical, efficient, and compassionate. With over 30 years of experience providing dermatological services in Salt Lake City, we provide a variety of services, from cosmetic skincare to treatment for skin cancer. Our team of board-certified dermatologists and licensed cosmetic service providers, along with our friendly staff, are here to provide you the care you need in a comfortable and professional atmosphere. For more information or to schedule an appointment, contact us through our website or call (801) 682-4715 today.