Skip to Content
Do UV Nail Salon Lamps Pose a Skin Cancer Risk?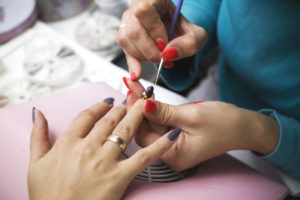 You've quit smoking, you slather up with sunscreen every time you step outside, and you would never consider visiting a tanning bed. But is your manicure putting you at risk of skin cancer? Here, we take a closer look at the potential risk you're taking when you put your hands under a nail salon's UV lamps.
First, let's talk about the different types of salon lamps. These light boxes, which are used to dry traditional nail polish and to cure polish during gel manicures, are sometimes called UV lamps and sometimes called LED lamps. Unfortunately, both types of lamp emit ultraviolet radiation. In fact, a lamp that didn't give off UV rays would not work to cure a gel manicure.
How bad could the exposure be if you're just getting a manicure? More research is needed to definitively answer this question. The Journal of American Medicine Association (JAMA) for Dermatology published a study on this topic in 2014, and in 2017, the National Institute of Health (NIH) published another one. The 2014 study indicated that getting a gel manicure every two weeks probably didn't generate enough UVA exposure to significantly increase the risk of skin cancer. The 2017 study, however, seemingly contradicted these findings. That study found that some nail melanomas contained mutations with a UV signature, which would indicate that UV radiation was involved.
Anecdotal evidence suggests a need for caution. Several stories have emerged of young women who have developed nail melanomas, likely because of exposure to nail salon lamps. A Miss USA pageant contestant, Karolina Jasko, recently made headlines when she was diagnosed with melanoma on her fingernail at 18 years of age. While experts believe this type of occurrence is rare, it still warrants further investigation.
Can you protect yourself and still get manicures? There are some protective measures you can take. You can protect your hands from UVA exposure the same way you protect the rest of your body, by slathering on broad spectrum, 30 SPF sunscreen. You can also wear fingerless gloves during your manicure, which may provide better protection from damaging UV rays. It's important to remember, too, that some medications can increase your UV sensitivity. Take a break from manicures every few weeks. This will let your nails "breathe" while giving you a chance to spot any abnormalities.
When you need help caring for your skin, Swinyer-Woseth Dermatology is committed to providing superior, professional skin care in a manner that's practical, efficient, and compassionate. With over 30 years of experience providing dermatological services in Salt Lake City, we provide a variety of services, from cosmetic skincare to treatment for skin cancer. Our team of board-certified dermatologists and licensed cosmetic service providers, along with our friendly staff, are here to provide you the care you need in a comfortable and professional atmosphere. For more information or to schedule an appointment, contact us through our website or call (801) 682-4715 today.