Skip to Content
Best Foods for Healthy Skin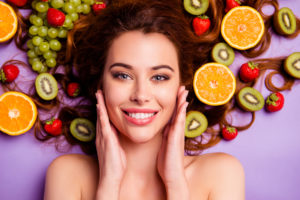 In our quest to have healthy skin, we tend to focus on what we put on our skin. Cleansers, makeup, moisturizers, and sunscreen are all important, of course. You want to choose products that will protect your skin and not irritate it. It's important to remember, though, that what you put into your body is just as important for the health of your skin. Are you eating the best foods for healthy skin?
Fatty fish has clear benefits for your skin. Eating fish like salmon, tuna, lake trout, sardines, mackerel, and herring is a good way to take in Omega-3 fatty acids. Omega-3s are good for your body in general, but they're particularly good at preserving collagen in your skin to keep it firmer.
There are plenty of plant-based sources of Omega-3 fatty acids as well. Flaxseed oil, soybean oil, and canola oil are all good sources. Chia seeds and walnuts are also good, contain additional vitamins, and are easy to incorporate into your diet.
Other nuts and seeds are also beneficial. Almonds and sunflower seeds are two great examples of easy to eat, delicious sources of skin-healthy vitamins.
Avocados are famous for their healthy fat. This fat helps keep your skin flexible and supple, and avocados also contain other helpful nutrients. They've got compounds that can help prevent UV damage, as well as vitamin E, which is an important antioxidant.
Eat the rainbow when it comes to produce. The vitamins, minerals, and antioxidants in fruits and vegetables do a world of good for your skin. Berries, kiwi, grapes, tomatoes, citrus fruit, bell peppers, broccoli, dark leafy greens, and sweet potatoes are some of the healthy options that provide a wide range of nutrients.
Sip on some green tea. Green tea has powerful antioxidants called catechins, which can protect against UV exposure, as well as reducing redness in skin. It's also got polyphenols, which help protect your skin from environmental damage. Coffee has polyphenols as well, but it's wise to be mindful of consuming too much caffeine.
Make dark chocolate, with or without red wine, your indulgence. While milk chocolate can be inflammatory, dark chocolate contains antioxidants, polyphenols, and vitamins. It's delicious paired with red wine, which contains skin repairing resveratrol. Just make sure you only have one glass, since alcohol is not beneficial.
Stick to real foods. For healthier skin, skip the processed foods and refined sugars.
When you need help caring for your skin, Swinyer-Woseth Dermatology is committed to providing superior, professional skin care in a manner that's practical, efficient, and compassionate. With over 30 years of experience providing dermatological services in Salt Lake City, we provide a variety of services, from cosmetic skincare to treatment for skin cancer. Our team of board-certified dermatologists and licensed cosmetic service providers, along with our friendly staff, are here to provide you the care you need in a comfortable, professional atmosphere. For more information, contact us through our website or call (801) 682-4715 today.