Skip to Content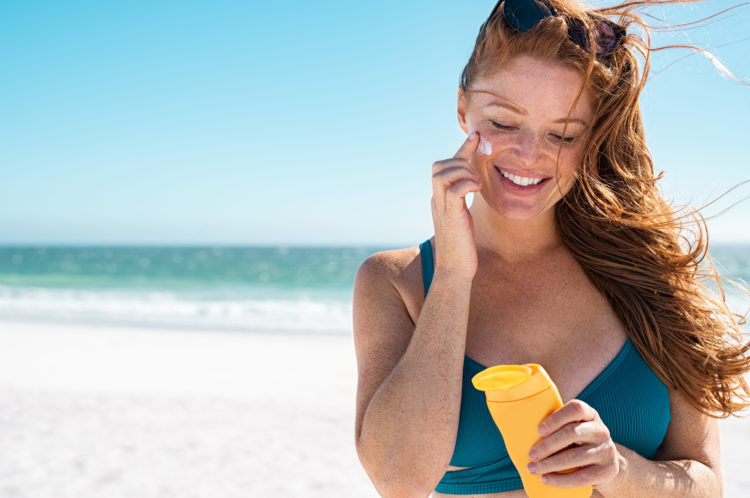 When summer arrives, all you want to do is spend your days outside soaking up the sun and enjoying the warm temperatures. However, the dry heat and high elevation here in Salt Lake City make spending time outside particularly damaging to your skin. Maintain a young and healthy look with these summer skincare tips.
Exfoliate Your Skin
Exfoliation is the process of removing dead skin cells and other debris to prevent clogging your pores and improve the effectiveness of toner and moisturizer. We recommend exfoliating in the morning a few times a week before applying any makeup.
Hydrate Your Skin
After you exfoliate, and even on the mornings when you skip this step, apply a hydrating cream to seal in moisture. Use an oil-free product designed for use on the face. You might also layer a booster or toner underneath your moisturizer to refresh your skin even more. Then, up to your hydration game with an intensive masque once or twice a week.
Drink More Water
Summer means higher temperatures and more outdoor activities, both of which can lead to dehydration if you're not careful. Your skin is often the first thing to be sapped of moisture when you get dehydrated, leading to saggy, wrinkly skin. Keep these symptoms at bay by drinking at least eight cups of water per day—more if you spend a lot of time outside.
Wear Sunscreen
Everyone knows sunscreen is an important part of sun protection, but most people don't apply enough. You should use about a teaspoon of sunscreen for your face, and cover the rest of your body with enough sunscreen to fill a shot glass. Then, reapply every two hours or any time you towel off. For the best results, stay indoors or hang out in the shade from about 10:00 am to 2:00 pm when the sun is at its most intense.
Soothe Sunburned Skin
If you forget to apply sunscreen, or you miss a spot, you could end up with sunburned skin. Unfortunately, the damage is done, but you can soothe the burn and reduce peeling by applying aloe vera and other cooling balms liberally and frequently.
Repair Sun-Damaged Skin
One blistering sunburn doubles your risk for melanoma, so prevention is definitely the best option. However, you can treat brown spots, wrinkles, and leathery skin caused by UV light with age-fight skincare ingredients. Specialized products can promote healthy cell growth and stimulate collagen production to help undo common signs of aging and slow future damage.
Get More Summer Skincare Advice
At Swinyer-Woseth Dermatology in Salt Lake City, we offer beneficial cosmetic services and can recommend skin care products designed to protect your skin from the sun and prevent premature aging. You can also turn to us for dermatology services to treat everything from acne and warts to hair loss and skin cancer.
To learn more about our skincare services, or to schedule an appointment, please contact our dermatologists today at 801-266-8841.