Skip to Content
Caring for Your Skin During Pregnancy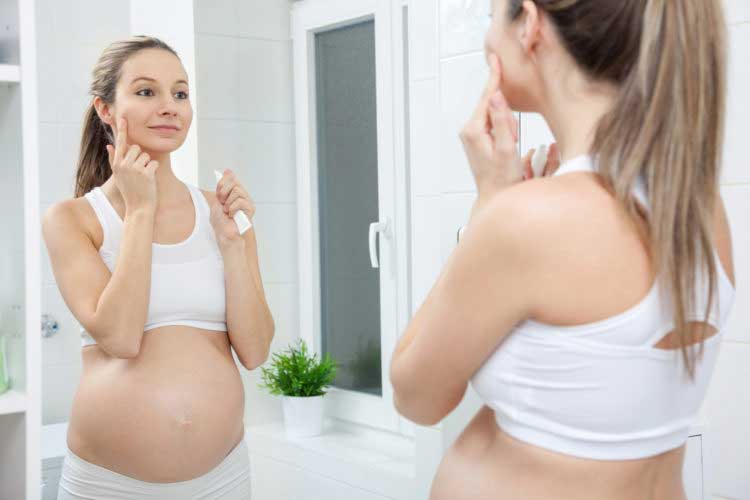 You may have a skin care routine you love now, but when you become pregnant, you might need to take a different approach. Not only can pregnancy change your skin, but some of the products that you are currently using may be safe for your baby. Your dermatologist can help you make adjustments to your skin care routine that are safe and healthy during pregnancy. This advice will also help.
Avoid Harmful Ingredients
There are a few ingredients that are common in skin care products that could potentially be harmful to your baby. Generally, you should avoid products with these ingredients:
Retinoids (such as Retin-A)
Salicylic acid
Benzoyl peroxide
Alpha hydroxy acids
Beta hydroxy acids
Some of these ingredients may be safe in small amounts when they are used under the supervision of your doctor. Be sure to consult with your dermatologist before using any of these skin care ingredients.
Opt for Gentle Cleaners
During pregnancy, it's best to opt for gentle products. Replace your more aggressive cleaners with micellar water or another gentle facial cleanser. It will help to keep your skin calm and prevent dryness. After cleansing, follow up with a rich moisturizer, which will also keep your skin calm and smooth. It's safe to use a moisturizer with sunscreen in it, but choose physical, rather than chemical sunscreen ingredients. Look for products with titanium dioxide or zinc oxide, so you get sun protection without the chemicals that can seep into your bloodstream and affect your baby.
Reconsider Anti-Aging Treatments
Many treatments, such as Botox, are not recommended for use during pregnancy, and laser treatments are typically only recommended during the second and third trimesters. You can review your anti-aging treatment goals with your dermatologist to determine what treatments are safe for you and which should wait until after your pregnancy.
At Swinyer-Woseth Dermatology, our providers can help you construct a safe and effective skin care regime for your pregnancy and beyond. To learn much more, make an appointment with a dermatologist in Salt Lake City by calling 801-266-8841.