Skip to Content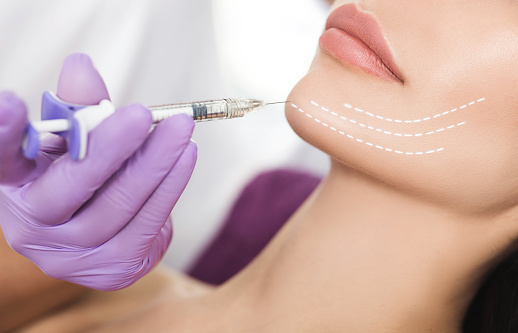 Do you have a troublesome double chin? Kybella can help! This injectable prescription medication improves the appearance of submental fullness, also known as a double chin. Learn more about Kybella and the special we're currently offering at Swinyer-Woseth Dermatology.
Have You Heard of Kybella?
Kybella is a series of injections that improve the appearance of fullness under the chin. The active ingredient in this cosmetic injectable is called synthetic deoxycholic acid. This molecule aids in breaking down and absorbing dietary fat, the culprit behind your double chin. When you receive a minimally invasive injection, Kybella gets to work destroying fat cells under your chin. This results in a noticeable reduction in fullness—not to mention a boost in your confidence level.
Benefits of Kybella
A few small injections may be all you need to improve the appearance of your chin profile. Here are a few reasons to consider trying Kybella:
Minimally invasive: Other techniques for removing fat around the jaw line involve surgery, which can be expensive, painful, and risky. By comparison, Kybella treatments are quick and easy, taking only 15 to 20 minutes to administer. There is also no recovery time required, with only minimal side effects to worry about, including swelling, bruising, or numbness near the injection site.
Long-lasting: Many patients begin noticing a difference after two to four injections, with up to six treatments needed in total. These sessions are spaced at least one month apart for optimal results. Once Kybella destroys the fat cells under your chin, dietary fat can no longer be stored or accumulate there. Thus, you can expect long-term results from your treatment. In fact, once you achieve the desired aesthetic, you should not require any additional follow-up visits.
Clinically tested and approved: Kybella is the only FDA-approved injectable treatment used to improve the appearance of moderate to severe submental fat. It has been the focus of a global clinical development program, with more than 20 clinical studies conducted so far. Over 1600 people received Kybella treatments in these studies, with 79 percent of participants expressing satisfaction with the results 12 weeks after their final treatment.
Finding a Qualified Dermatologist to Administer Kybella
The success of your Kybella treatment relies in large part on the skill and expertise of the healthcare professional who administers your injections. To ensure a positive outcome, only work with a trained, licensed, and experienced provider.
Rest assured that the board-certified team at Swinyer-Woseth Dermatology is qualified in the effective use of Kybella to treat double chins. We even have a special going on now through Dec. 23, 2021! Get $175 off Kybella treatment when you spend $500 or more.
For answers to your remaining questions about Kybella, or to schedule your first treatment with us, please contact Swinyer-Woseth Dermatology in Salt Lake City or South Jordan by calling us at (801) 682-4715. We also provide a wealth of other cosmetic and medical treatments to help you look and feel your best.