Skip to Content
6 Skincare Tips to Transition from Winter to Spring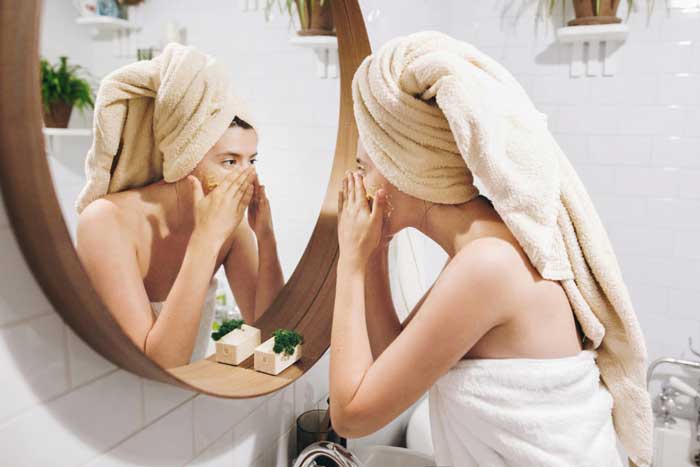 Six Skincare Tips
After months of battling dry, cold winter weather, things are finally warming up outside. Help your skin wake up from its hibernation with these six spring skincare tips.
Exfoliate
You might remember to exfoliate your face a couple of times a week, but what about the rest of your body? Heavy winter clothes and thick moisturizer may have prevented dead skin cells from sloughing off effectively over the past few months. Reveal a fresh, healthy layer of skin by exfoliating your whole body at least once this spring.
First, soak in a comfortably warm bath for 10 to 15 minutes to soften your skin. Then, apply a body scrub, giving extra attention to your rough knees, elbows, heels, and palms. Stick with gentler face-specific products for your delicate facial skin.
Lightly Moisturize
Every time you shower, bathe, exfoliate, or wash your face, end with moisturizer. Now that spring is here, it's time to switch from heavy wintertime lotions to lighter creams that keep your skin hydrated without weighing it down. Always look for oil-free products for your face to prevent clogged pores.
Wear Sunscreen
You've heard it time and again—wear at least 30 SPF anytime you go outside. If slathering sunscreen on your face sounds like a recipe for shiny skin and breakouts, remember that some facial moisturizers have SPF built right in! It's wise to make this a part of your morning regimen in the spring when you'll start venturing outdoors more.
Hydrate
Focus not only on moisturizing your skin with lotion but also on hydrating from the inside out by drinking more water. This tip applies in every season—the more water you drink, the healthier your skin is. Aim to drink at least eight glasses of water a day to prevent dry, flaky skin.
Revamp Your Makeup Brushes
As you spring clean the house, don't forget to give your cosmetic bag some attention. Makeup brushes, sponges, and loofahs harbor microscopic bacteria. Even though you can't see them doesn't mean they aren't there. That's why you should clean or replace your makeup brushes every few months.
While you're at it, check the medicine cabinet for expired gels, creams, and other topical products. Throw away any you find.
Get a Photofacial
If you're looking for the perfect time to rejuvenate your skin, this is it! Help your face come out of hibernation with Intense Pulsed Light (IPL) photo facial therapy.
This treatment utilizes laser-like technology to address sun-damaged skin, blotchiness, discoloration, wrinkles, freckles, and large pores. IPL photo facials undo years of damage to reveal a more youthful, revitalized appearance you'll be eager to show off this spring. Best of all, treatments are noninvasive, well-tolerated by most, and result in minimal downtime.
Swinger-Woseth Dermatology is dedicated to helping you look and feel your best this spring with proven cosmetic and medical skin care services. To schedule a consultation with our dermatologist in Salt Lake City, please contact us today at 801-266-8841.