Skip to Content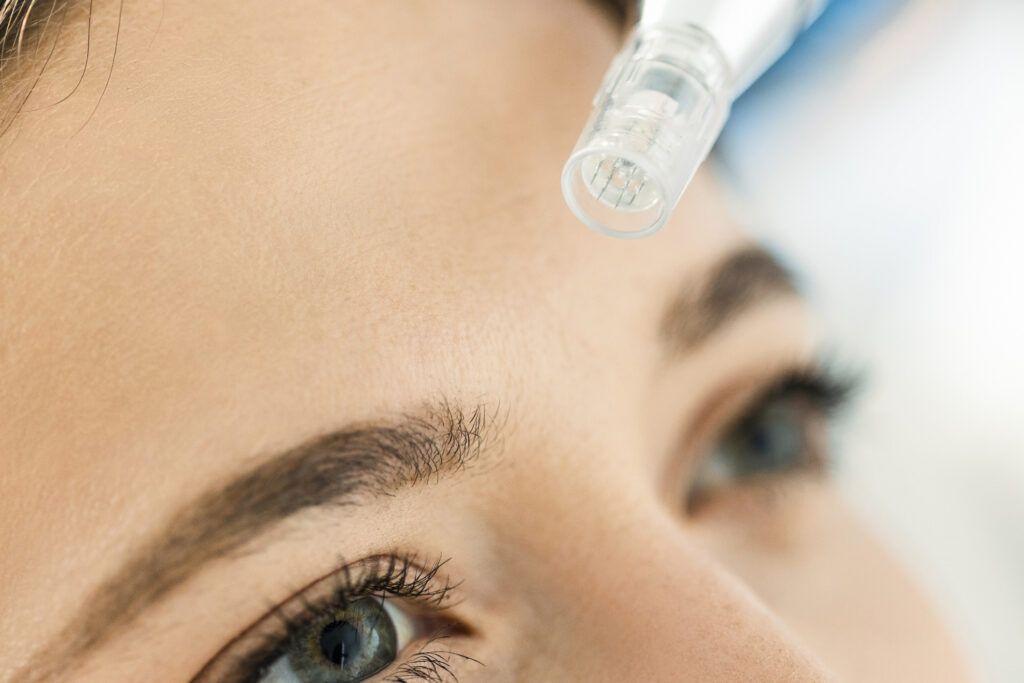 How much do you know about micro needling? This procedure, which is growing increasingly popular, induces collagen production, using small, sterile needles. This, in turn, leads to smoother, firmer skin, with a reduced appearance of wrinkles, acne, and scars. Is it effective? Is it safe? Is it something you should try at home? We've got the answers to all your microneedling questions, so you can decide if it's for you.
Here's how microneedling works. Using a handheld device with tiny, sterilized needles, your doctor will create precise, microscopic punctures in your skin. These tiny holes don't leave scars, but instead cause the body to generate collagen and new skin tissue. This causes the epidermis to become thicker and tauter, resulting in smoother, firmer skin.
It's used to alleviate a variety of skin problems. Typically used on the face, microneedling can reduce the appearance of wrinkles, scars, dark spots, acne, and large pores. It's relatively effective in treating minor scarring and stretch marks, as well as reducing the signs of aging and promoting a brighter, firmer appearance of the skin. It's minimally invasive, takes about 30 minutes, requires little to no down time, and is safe for most people. However, it can take several sessions to achieve the desired results and may require long-term maintenance.
Do the benefits outweigh the risks? The side effects of microneedling are largely temporary. You may experience some swelling, redness, or skin flaking, and you'll need to be very careful about UV radiation, as it increases the skin's sun sensitivity. In rare cases, it causes marks that don't go away, and microneedling may worsen active outbreaks of acne or oral herpes. As with any procedure that breaks the skin, there is also a risk of infection if proper precautions are not taken to keep the skin clean. However, for most people, the benefits of microneedling are well worth the risk of mostly minor side effects.
Here's what to expect from a microneedling session. Your dermatologist can tell you how best to prepare your skin for this procedure. Once you're in the office, about an hour before the treatment, a topical anesthetic cream will be applied. This is because microneedling can be- (understandably!)- painful, since your face is being punctured with tiny needles. Once your skin is numb, it will be cleansed, dried, and prepped with an active serum. The ingredients of the serum will be customized to your particular needs, and the serum will make it easier for the device to glide across the skin. While microneedling used to be performed with a dermal roller, most dermatologists now use automated devices with single use, sterile needle cartridges. The doctor will move this across your skin, using different pressure to treat different parts of your face. Once the treatment is complete, a customized serum and cooling mask will be applied to help calm the skin and promote healing.
Should you try this at home? There are microneedling devices marketed for at-home use. However, the jury is still out on their safety and efficacy. Some doctors are concerned that they are not very effective, while others warn that at-home microneedling can be dangerous. For one thing, you won't have the sterility of a doctor's office or medical spa lab to protect you against infection. Further, it's easy to damage your skin when by going too deep or waste your time and energy on ineffective microneedling that's too shallow to do any good. Your best bet, if you want to try microneedling, is to find a reputable dermatologist.
If you're looking for a dermatologist, Swinyer-Woseth Dermatology is committed to providing superior, professional hair and skin care in a manner that's practical, efficient, and compassionate. With over 30 years of experience providing dermatological services in Salt Lake City, we provide a variety of services, from cosmetic skincare to treatment for skin cancer. Our team of board-certified dermatologists and licensed cosmetic service providers are here to provide you the care you need in a comfortable, professional atmosphere. Call (801) 682-4715 or contact us through our website.