Skip to Content
Laser Hair Removal vs Electrolysis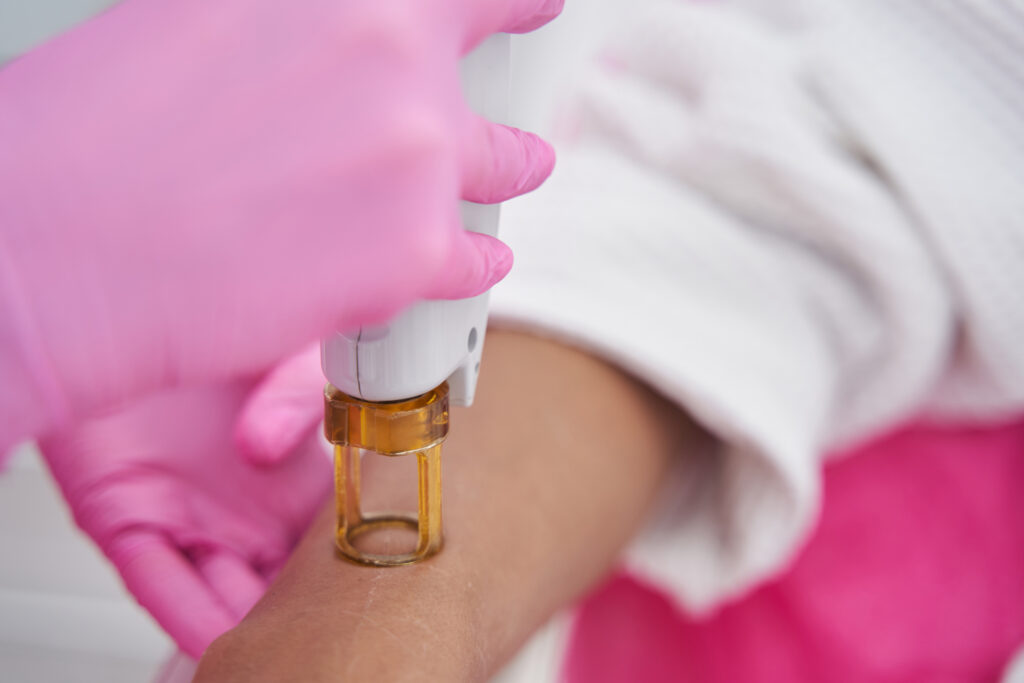 Do you have unwanted hair you want to remove? There are so many different methods for removing excess hair that we are spoiled for options. Shaving, waxing, electrolysis, and laser hair removal are some of the most popular, but which way is best? Electrolysis and laser hair removal are the most effective because both of these methods target and destroy hair follicles. This prevents future hair growth, though they neither is permanent, and each requires touch-ups over the years. Which is right for you? Here, we'll take a look at the pros and cons of each of these two methods of hair removal.
What is electrolysis?
It's a manual technique in which a skilled electrologist uses a metal probe to deliver low-level electric pulses to the hair follicles. The probe is something like a thin needle or wire, thinner than a strand of hair, and it does not actually pierce the skin, but enters the hair follicle through a natural opening in the skin.
Pros of Electrolysis:
Works on all hair colors and skin types
Can be used anywhere on the body
Minimal downtime
More permanent than laser hair removal
Less expensive than laser hair removal
Cons of Electrolysis:
Not practical for a large treatment area
More painful than laser hair removal
Can take over a dozen treatments because follicles must be treated individually
May not be suitable for those with a lot of hair
Risk of burns, hyperpigmentation, or keloid scars
What is laser hair removal?
This treatment involves a laser device that targets dark hair follicles. It works best on dark hair and light skin, because the contrast allows the laser to target the hair. There are some laser devices that work on darker skin, as long as the correct settings are used. It is crucial for laser hair removal to be done by a board-certified dermatologist, because the wrong settings can cause burns and skin discoloration. Laser treatments destroy the hair follicles at the root, though it takes time, and this prevents hair from growing as quickly and as thick as it did before.
Pros of Laser Hair Removal:
Can be done almost anywhere on the body
Can be used on large areas quickly
Not very painful
Short appointments and no downtime
Up to 90 percent hair reduction
Reduces underarm sweating
Cons of Laser Hair Removal:
Multiple sessions are needed to provide good results
Expensive
May not be safe for pregnant women
Works best when there is high contrast between skin and hair
Untrained technicians can cause burns or scars with laser hair removal
The Verdict
In our opinion, laser hair removal is a better option. It's easier and less painful than electrolysis, and it's a safe procedure as long as it's done by a dermatologist rather than an unpracticed technician. What's more, while it has traditionally been ineffective for darker skin tones, there are now machines that are suitable for dark skin.
If you're looking for a dermatologist skilled in laser hair removal, Swinyer-Woseth Dermatology is committed to providing superior, professional hair and skin care in a manner that's practical, efficient, and compassionate. With over 30 years of experience providing dermatological services in Salt Lake City, we provide a variety of services, from cosmetic skincare to treatment for skin cancer. Our team of board-certified dermatologists and licensed cosmetic service providers are here to provide you the care you need in a comfortable, professional atmosphere. Call (801) 682-4715 or contact us through our website.