Skip to Content
Talking to Your Dermatologist About Lichen Planus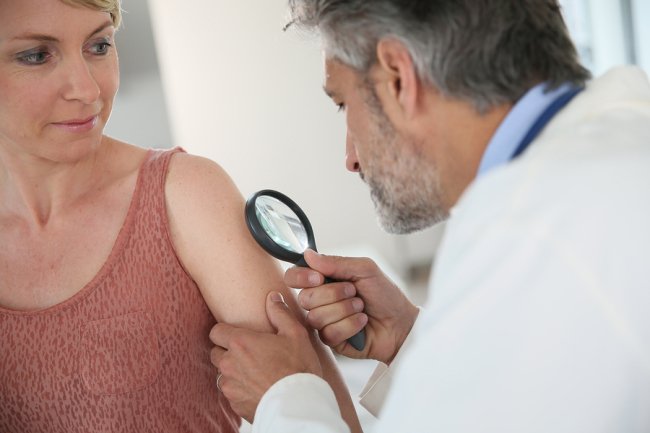 Lichen planus is an inflammatory skin disease. Although its appearance can be alarming, lichen planus isn't contagious and it isn't a type of cancer. A dermatologist may diagnose lichen planus that affects the skin, nails, mucous membranes, or scalp. Your dermatologist can help you understand your diagnosis and explore your treatment options.
Know When to Consult a Dermatologist
Even if a skin condition turns out to be benign, the sudden formation of lesions or unusual bumps should be examined by a dermatologist. Tell him or her about all of your observances. Lichen planus looks like flat-topped bumps that may be purplish in color. They often appear on the wrist, inner forearm, and ankle, but may also be present on the external genitals and mouth. Patients may experience itching, blistering, hair loss, nail damage, or nail loss. Ulcers that form in the vagina or mouth can be painful. This skin disease can also cause white patches in the mouth.
Learn About Causes and Risk Factors
Lichen planus is attributed to an abnormal immune response that occurs when the immune system mistakenly attacks the healthy cells of the skin or mucous membranes. Sometimes, other factors might trigger lichen planus, such as hepatitis C infections or the use of certain drugs.
Discuss Your Treatment Options
Lichen planus can sometimes clear up on its own within a couple of years, but its appearance can be distressing and sometimes the symptoms can be painful. When lichen planus affects the vulva and vagina, severe pain, scar tissue, and sexual dysfunction can result. Fortunately, there are multiple treatment options available and your dermatologist can help you find the right one for you. A variety of oral and topical medications are available. Topical retinoids can also help. Many patients undergo phototherapy such as intense pulsed light (IPL) therapy.
Patients choose Swinyer-Woseth Dermatology because of our personalized attention, compassionate care, and ongoing dedication to patient education. Lichen planus is just one of the many conditions our dermatologists in Salt Lake City can treat. Call 801-266-8841 or visit us online to learn more about our dermatology services, which include acne treatment, laser hair removal treatments, and rosacea treatment.