Skip to Content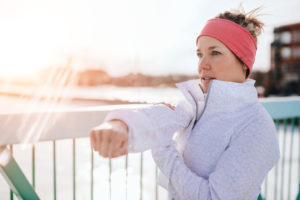 When the temperature drops, many people think it's safe to put away the sunscreen. However, winter sports enthusiasts face the same risks from UV radiation as their sun-bathing counterparts. 90 percent of all skin cancers are caused by overexposure to UV rays, and it's just as important to protect your skin from the sun in winter as it is in summer.
If you're into snow-related activities, sun protection is especially important. The snow can reflect the sun's rays by up to 80 percent, and exposure to UV radiation escalates by 4 to 5 percent for every 1000 feet above sea level. If you're in a high altitude your exposure to UV radiation increases dramatically and so does your potential for skin damage. Even on cloudy days, it's important to apply sunscreen- and reapply it every two hours or so.
Sunscreen isn't the only method of protecting yourself from sun damage. In fact, your first line of defense is appropriate clothing. While you're likely to cover your body more thoroughly when it's cold, most skin cancers occur on the head, face, and neck, which are likely to remain uncovered. If you're participating in an outdoor sport like skiing, wear a ski mask. It's also smart to wear goggles with at least 99 percent UV protection. Even if you don't wear a ski mask, you should make sure to wear a hat, to protect not only from the cold, but also from the sun. As in the summer months, try to stay out of the sun during the peak hours of sunlight, from about 10 a.m. to 4 p.m., and seek shade when you do venture out.
It's also important to apply sunscreen correctly. Use a broad-spectrum sunscreen with an SPF of at least 15, but preferably 30 or higher. Apply it at least 20 minutes before heading outside, spreading it liberally and evenly over all exposed skin. Don't skimp on your face: apply at least a teaspoon. Choose sunscreen that's moisturizing, to help combat winter dryness, and reapply it every two hours regardless of what the instructions say. Keep your lips healthy with a lip balm of SPD 15 or higher, and drink plenty of water so that you'll remain hydrated.
Regardless of the season, when you need help caring for your skin, Swinyer-Woseth Dermatology is committed to providing superior, professional skin care in a manner that's practical, efficient, and compassionate. With over 30 years of experience providing dermatological services in Salt Lake City, we provide a variety of services, from cosmetic skincare to treatment for skin cancer. Our team of board-certified dermatologists and licensed cosmetic service providers, along with our friendly staff, are here to provide you the care you need in a comfortable, professional atmosphere. For more information, contact us through our website or call (801) 682-4715 today.