Skip to Content
A Patient's Guide to Mohs Surgery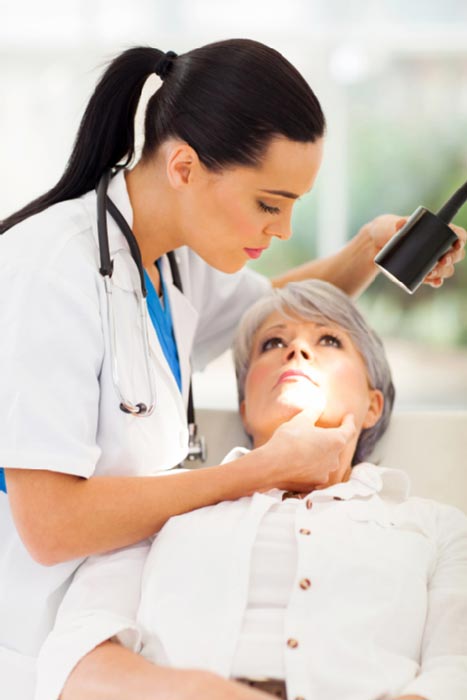 Mohs surgery —also called Mohs microscopic surgery or MMS—is a procedure used to remove skin cancer using only local anesthesia. The process can be performed in your dermatologist's office and offers quick recovery with little post-operative pain. If you're scheduled for Mohs surgery, here is what you need to know.
What Kinds of Skin Cancer Can Mohs Surgery Treat?
Mohs surgery is usually used to treat squamous cell and basal cell cancers that occur on the head and neck. It's ideal for treating cancers in small areas, like the lips, nose, and ears, where removing large areas of skin can cause cosmetic concerns, and the hands and feet, where there is little excess skin. However, depending on the specific case, Mohs surgery may be performed on any part of the body. Mohs is not usually used to treat melanoma.
What Happens During the Procedure?
After the treatment area is numb, your dermatologist will remove a very thin layer of skin. That layer is then frozen, stained with dye, and examined under a microscope so your doctor can see the cancerous cells. Your dermatologist will continue to remove thin layers of skin and examine them until he or she can no longer see any evidence of skin cancer. After your dermatologist is confident that cancer has been completely removed, he or she will make a plan for repairing the wound and minimizing scarring.
What Is the Recovery Like?
Most people are able to return to normal activities the day after Mohs surgery. Few people require any pain medication, but when necessary, over-the-counter remedies are usually sufficient. Your dermatologist will tell you when you need to return to have your sutures removed and what you can do to reduce scarring.
Swinyer – Woseth Dermatology offers Mohs surgery to patients in our Salt Lake City office. To find out if this is the right procedure for you, schedule a consultation with one of our dermatologists. For more information about skin cancer examinations and treatment, call us at 801-266-8841.