Skip to Content
Adjust Your Skincare Routine for the Spring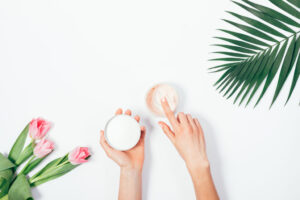 Spring is nearly upon us- is your skincare still geared toward winter? It's time to switch it up and get your skin ready for warmer weather. After months of cold temperatures and harsh winds, your skin may be dry and itchy. As the temperatures and humidity begin to climb, here are some tips for shaking off the dull skin of winter and awakening your spring glow.
Spring clean your products. The first thing to do when you're getting ready for a new season is to throw out your old beauty supplies. Wash or get rid of sponges, makeup brushes and applicators, and washcloths, so you won't provide a breeding ground for yeast, bacteria, and mold. Toss any beauty products that are past their expiration date, too, checking the bottom of the packaging to determine that date. If you can't find any indication of when the product expires, smell it. Throw away anything that smells "off."
Exfoliate. If you aren't already exfoliating, now is the time to start. Chemical exfoliation is particularly good for helping brighten your complexion and make it look more youthful. Don't overdo it; twice a week is the maximum recommended amount of exfoliation.
Lighten up your moisturizer. Heavy moisturizers can feel wonderful on dry, parched winter skin. On a sweaty face, though, they can feel sticky and greasy. Stick to light moisturizers with humectants and emollients to keep a good balance of moisture in your skin.
Up the SPF. Not everyone uses sunscreen during winter, but everyone should. In the sunny springtime, sunscreen becomes even more important. Don't rely on the SPF in your foundation but choose at least 50 SPF to protect your skin. While you're at it, wear a wide-brimmed hat to shade your face from the sun's harmful UV rays.
Work in some antioxidants. Topical antioxidants like vitamin C can help stabilize free radicals to decrease pigmentation and other sun damage.
Protect your lips. You've probably grown accustomed to wearing lip balm during the harsh weather of winter when your lips have been dry and chapped. In the spring and summer, they may not feel as rough, but they're still in need of care. Use an SPF lip balm for protection against sun damage while you're keeping them moist.
Ease up on the retinol. Retinol is a great product for stimulating cell turnover, but that's not what you need when the sun is shining. If you want to use retinol in the spring and summer, just make sure you use it at night instead of during the day.
When you need help caring for your skin, contact Swinyer-Woseth Dermatology to schedule a consultation. We're committed to providing superior, professional skincare in a manner that's practical, efficient, and compassionate. With over 30 years of experience providing dermatological services in Salt Lake City, we provide a variety of services, from cosmetic skincare to treatment for skin cancer. Our team of board-certified dermatologists and licensed cosmetic service providers are here to provide you the care you need in a comfortable, professional atmosphere. Call (801) 682-4715 or contact us through our website.