Skip to Content
Get to Know Alisa Seeberger, F.N.P.-C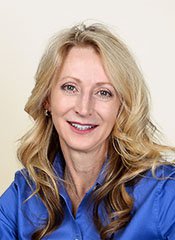 Alisa Seeberger is one of the nurse practitioners at Swinyer – Woseth Dermatology. She is native to Salt Lake City, Utah, and, in her free time, enjoys traveling as well as a variety of outdoor activities including cycling, skate-skiing, and hiking. As an avid cyclist, Alisa participates in the Intermountain Cup regional mountain bike racing series. She now lives with her family in South Jordan, Utah.
Alisa received her associate degree in nursing from Weber State University in 1990 and then completed her bachelor of science degree in nursing from the University of Utah in 1994. While training at the University of Utah, she completed a 120-hour internship in the dermatology department. Alisa received her master's degree as a family nurse practitioner in 2007 and began her work as a nurse practitioner in the specialty of dermatology after 20 years of service at Primary Children's Medical Center.
If you are looking for skincare or a quality dermatologist in Salt Lake City, call Swinyer – Woseth Dermatology today at 801-266-8841. We value our patients and will provide you with friendly, experienced, and individualized care for your skin problems.