Skip to Content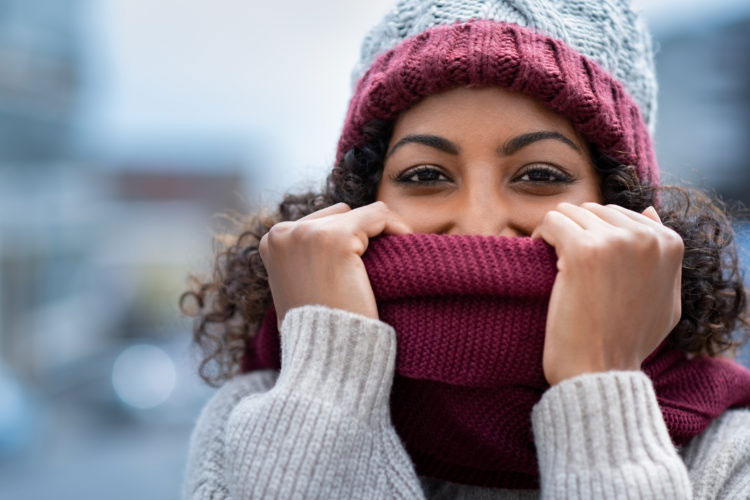 Do you sometimes feel like you'd be better off keeping your winter hair under a hat for the whole season? Winter can be rough on hair, leaving it with split ends and breakage. It's not just the cold weather that's harsh, it's the wind, the static electricity, and the dry heat indoors. How can you maintain lush locks in the face of all that damage? We've got some tips.
Wear a hat. No, we don't mean to hide your hair all season long! But when you're going outside, a hat can protect your hair from dry air, snow, wind, and rain. If your hair is particularly prone to breakage, be careful of the fabric of your hat. Line wool or cotton hats with silk or satin to protect against damage, and use a dry oil spray to fight static electricity under the hat while moisturizing your hair.
Don't over-shampoo. Washing your hair too often can leave you with a dry, flaky scalp and strip your hair of its natural oils. If you normally wash every day, take it back to every other day, and if it's still dry try every three days. If you have trouble going that long, try some dry shampoo in between washes, to freshen your hairstyle and keep your hair smelling good.
Keep your hair hydrated. No matter your hair type, extra moisture will help combat the effects of dry air. An oil-based moisturizer will help lock in moisture, revitalizing dry, damaged hair. A leave-in conditioner can help prevent fly-away hair that static brings, too. Want to go one extra step? Fight the dry air in your house by using a humidifier, and you'll be doing your hair a favor too.
Change your style. Get your hair trimmed regularly, to get rid of split ends. Normally a blond? Consider a darker hue in winter, to prevent the damage done by bleach. If you typically style dry, straighten, or curl your hair using heat, now is the time to explore new styles that won't dry and damage it.
Deep condition once a week. Weekly, let the conditioner stay on your hair for 30 minutes so that it can really penetrate the hair shaft. A weekly hair mask is a great idea, too, providing softness, hydration, and shine.
Careful with the water. Shampoo with lukewarm water, followed by a cool rinse, and never leave the house with wet hair.
Swinger-Woseth Dermatology is committed to providing superior, professional skin care in a manner that's practical, efficient, and compassionate. With over 30 years of experience providing dermatological services in Salt Lake City, we provide a variety of services, from cosmetic skincare to treatment for skin cancer. Our team of board-certified dermatologists and licensed cosmetic service providers, along with our friendly staff, are here to provide you the care you need in a comfortable and professional atmosphere. For more information or to schedule an appointment, contact us through our website or call 801-266-8841 today.